Hello Fellow Oakwood Parents,
Take a minute this week and ask you kids about the verse we are focusing on this unit - Deuteronomy 6:5. Can your kid say it, share what it means to them or even sing it (to a snazzy tune!)?
This week we will be in 2 Kings 4-6 looking at Elisha performing miracles. Gospel Project takes kids through the Bible chronologically over the course of three years and see how each "little" story connects back to Jesus and the overall narrative of Scripture. I encourage you to click the link above and explore it a little more.

Here is what is going on this week:
Each child needs an updated consent form each year. If you haven't already, please complete it. Paper copies are available at the Kid Min desk or you can find it here.
Sunday Kids Programming | 9 a.m. | Birth – 5th grade

Sunday Kids Small Group | 10:30 a.m. | Birth – Kindergarten
New this fall!

Preschoolers and kindergarteners can be a part of small group. They will play and have age-appropriate activities and Bible lessons.

Small Group will not be the same as 9 a.m. programming and is suitable for kids coming to second hour or for kids staying both services.

Please let the check-in team know if your child is staying both hours and a volunteer will be with them in-between services

Drop off and pick up at Room 221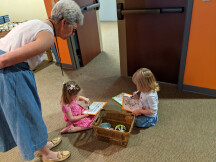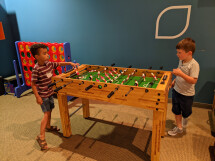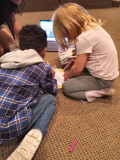 Wednesday Night Community | 6:30-8 p.m. | Birth – 5th grade
Kids 3 years and older will continue in 2 Kings with Elisha

Remember the café is open for dinner

Adult volunteers are still needed for WNC.

Email Ashley

for more information.

Technology

Help set up and click through the night

Large Group Leader

MC the evening and lead the large group of K-5

th

with stories, videos and/or songs from the curriculum

Small Group Leaders

Kids are broken in age specific groups and go through different rotations

Leaders would help with one of the rotations

Small group discussion

Craft/project

Games

Preschool Room Leaders

Nursery Leaders
Looking Ahead
October is Fire Safety Month and Kid's Ministry will be having a fire drill Sunday October 2nd, weather pending. This will be a non-threatening way for our leaders and our kids to practice what to do in case of a fire.