Groups for Wednesday Night Community
Groups for All Ages
From birth to 100+ years old, Wednesday nights at Oakwood are for everyone. There are groups for all ages and stages of life, so that you can arrive with your family or friends but grow spiritually in a group of your peers.
The Cafe is open from 5 - 6:30 p.m., serving up pizza and specialty drinks before groups begin! Pre-order your dinner by noon on Tuesdays to help us prepare.
All groups meet from 6:30 - 8 p.m. with the exception of Perspectives (read more below).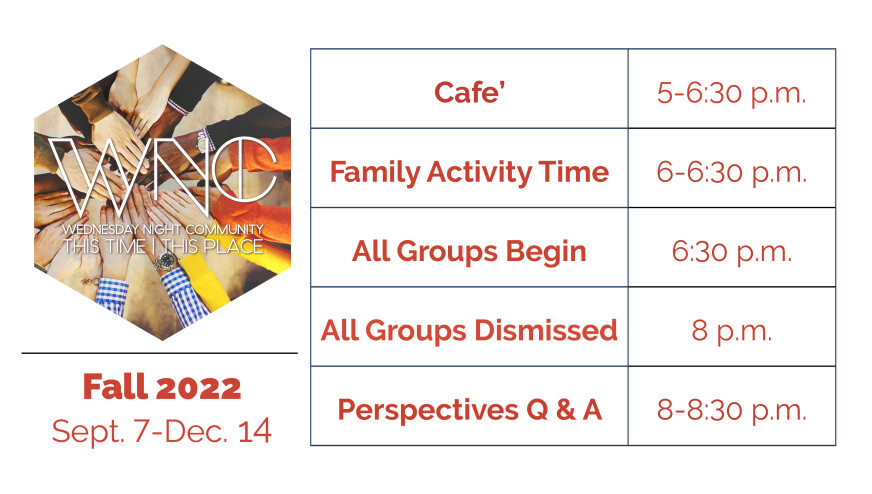 Kids Ministry | Birth - 5th grade
About: Wednesday night kids in preschool - 5th grade will be going through the Bible chronologically and get to see how each "little" story connects back to Jesus and the overall narrative of Scripture with The Gospel Project curriculum. It will be the same story that was taught in the Sunday prior, but with a new approach, different games, activities and crafts. Nursery will also be available.
Location: Kids Zone and Classrooms (upper level)
Leader: Ashley Schmidt
STUDENT Ministry | 6th - 12th Grade
About: Join us for worship, games, small groups and Bible study in Philippians. We'll worship together as one student body, but will then split up into middle and high school groups.
Location: High School Room (upper level) and Middle School Room (lower level)
Leader: Daryl Donovan
Perspectives | Adults
About: Perspectives is a 14 week discipleship course focused on missional living. The goal is to understand what God is doing locally and globally, then learn how we can join Him. The cost is $230 per person (funding assistance available).
Location: Oakwood Church | Gathering Place
Leader: Marcus Constantine
Just among moms (JAM) | Women
About: In a world where moms are inundated with information, overwhelmed with the demands of parenting, and navigating through everything that has happened the last few years, it's easy to feel isolated and alone. The beautiful thing is God designed us to be in community with Him and each other. The cost is $20/year. Learn more about JAM.
Location: Oakwood | Meadows (lower level)
Leader: Lexi Ellis
Jude + Ruth | Women
About: Two short books from the Old and New Testaments, yet both give great insight into how we live out our faith in the midst of disappointment and in a world that offers no real answers. Where does our hope come from? We must anchor ourselves to Jesus, the only source of truth and grace! In Jude and Ruth, we will witness God's faithfulness and transforming power to equip us for hopeful, God-dependent living. Video studies lead us to explore God's Word. Suggested book donation $20.
Location: Oakwood | Library (lower level)
Leaders: Sarah Hayden and Debby Rowe
the Epistles | men
About: Together we'll read through and discuss short, read-in-one-sitting epistles.
Location: Oakwood Church | MMOG Room 207 (upper level)
Leaders: Herb Daugherty + Denny VanCleve