His Promise: Women's Christmas Event 2023
Friday, December 01, 2023, 6:00 PM - 8:30 PM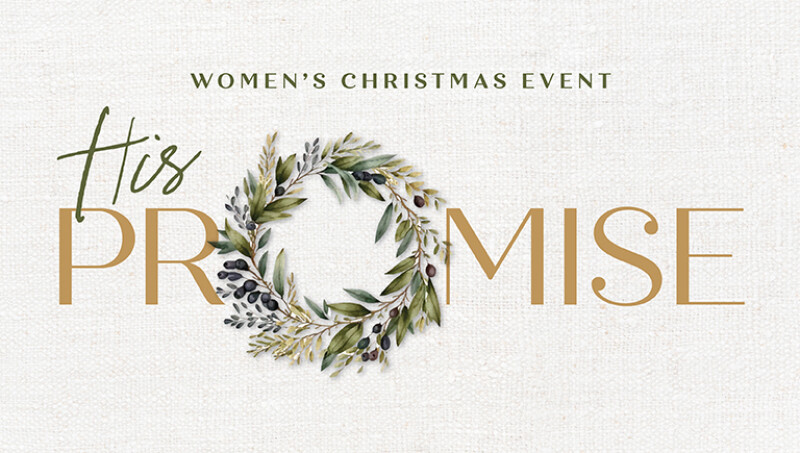 "Blessed is she who has believed that the Lord would fulfill His promises to her!"

-

Luke 1:45
Christmas comes with expectations... spending time with loved ones, finding or receiving the perfect gift, keeping all the traditions alive. What started off as good intentions can diminish into a list of promises kept and promises broken. Isn't there something more to celebrate?
When we turn our eyes to Jesus, the Promised One, we remember that He came to set us free from false expectations and our own failings. Through many generations, God's Word proclaimed that a Savior was coming! At Christmas, we celebrate that indeed Jesus is the Good News we've been waiting for, God's Word entering our world. His Promise, fulfilled.
Ladies, you're invited to enjoy an unhurried evening to savor the message of Christmas!
Details
What: His Promise: Women's Christmas Event
Full dinner service and dessert*

Festive Christmas songs

A special presentation about how Jesus is the Promise Fulfilled
Through the experiences of women in Scripture, hear how God's promises are woven into the Christmas story and are still relevant today. Start the Christmas season encouraged to believe in His Promise.
When: Friday, Dec. 1
6 – 8:30 p.m. Oakwood Church
Doors Open at 5:30 p.m.
Who: Women 12-years-old and older
Cost: $25/person - OR - $175/table of 8 (one-time payment)
The Women's Christmas Event is very close to selling out! Please contact Sarah Hayden ( ) or call the church office (262)367-1212 during office hours to inquire about making reservations. Thank you!
Please consider who you might invite to join you! Special this year: a limited number of seats are FREE for guests of Oakwood women. Don't let cost hinder you from inviting! Contact Sarah Hayden for requests.
*Our menu is gluten free. Please notify us of other allergies by Nov. 26 at . Note that our kitchen is not a certified gluten-free kitchen.
Gluten Free Vegetable Lasagna: Rich layers of Gluten Free Pasta, Creamy Ricotta and Mozzarella Cheeses, and Roasted Fresh Vegetables in a Gluten Free Cream Sauce.
Gluten Free Meat Lasagna: Rich layers of Gluten Free Pasta, Hearty Ground Beef, Tomato Sauce and Ricotta Cheese. Topped with blend of Parmesan and Mozzarella Cheeses.
This evening will feature a silent auction of unique experiences donated by Oakwood families. Proceeds will benefit the outreach of Esperanza Viva to an unreached, impoverished community in Puebla, Mexico.