Community Raking Competition
Saturday, October 14, 2023, 1:00 PM - 6:30 PM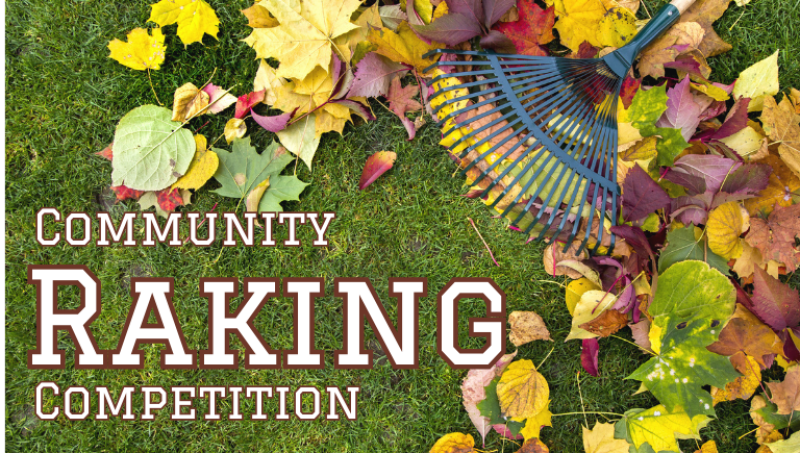 Tell neighbors and community members that Jesus never "leafs" them! Gather up a team, rake some yards, and earn prizes. We'll enjoy a night of community at Oakwood after all the hard work is finished, complete with a chili cook-off and bonfire.
Details
What: Community Raking Competition
Who: Anyone and everyone! Abled bodies of all ages are invited to participate. Not able to rake? Cook up a crockpot of chili or simply come to the night of community and enjoy time in fellowship with each other.
When: Saturday, Oct. 14
1 - 4 p.m. Raking Competition
4:30 - 5:30 p.m. Campfire, Chili, Bonfire
5:30 p.m. Prizes Announced
*Rain date is Sunday, Oct. 15. In the event of a complete washout, we will still hold the chili cook-off Saturday, Oct. 14.
Cost: Free! Bring your own raking (or leaf blowing) supplies. Oakwood will supply hats to group leaders to identify your group to the public, as well as "leaf behinds" (see what we did there) to share with those whom you connect (see competition details below). Oh, and the chili is free, too.
Why: Because Oakwood is a community that loves Jesus and lives to make His love known!
The Competition
1. Create a team. Teams can be any size, but must work on the same yard at the same time. All ages are invited to participate. It may be a great gathering opportunity for your group!
2. Choose an area to rake. It can be your own neighborhood or elsewhere, and you can choose a location or we will assign one to you. Teams are responsible for their own transportation. Please share where you'll be raking in the sign up link.
3. Gather supplies. Each team should provide its own supplies (rakes, leaf blowers, appropriate clothes, water, etc.).
4. Pick up a Team Kit. The group leader should pick up a Team Kit on Sunday, Oct. 8 before or after the worship experiences or Saturday, Oct. 14 beginning at noon. Each Team Kit will have a score card, pencil, schedule, directions, "leaf behind" items to share with the people whose yard you rake, and a hat for the group leader.
5. Get raking! From 1 - 4 p.m., rake and clean up as many yards as you can. Keep track on your score card! Be back to Oakwood by 4:30 p.m. to turn in score cards, enjoy the chili cook-off and bonfire, and earn prizes!
The Chili Cook-off
1. Sign up. Let us know you're cooking up a crock pot of chili by signing up here. (Oakwood will provide the toppings - cheese, sour cream, crackers, onion, etc. - and beverages.) Anyone can submit a crock pot of chili for the cook-off competition.
2. Enjoy! Guests can enjoy cups or bowls of chili inside or around the bonfire outside.
3. Vote. Guests will receive a "token" to vote on which chili they like the best. The chili with the most tokens wins a prize.
Everyone's Invited!
Invite friends to join you, whether you're raking or simply enjoying the night of community. Please RSVP below so we know how many guests to accommodate.
We can't wait to see how God moves through us into our communities!