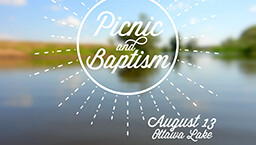 Sunday, August 13, 2017, 3:00 PM - 7:00 PM
Join your Oakwood Church Family for food, fun, fellowship and praising God. Plus celebrate with us during a special baptismal service.
Time: Baptismal service at 3:15 at the Ottawa Lake Amphitheater. Picnic to follow at shelter B. (S59 W36630 Co Road Zz, Dousman, WI 53118)
Cost: The entrance fee to Ottawa State Park is $8/vehicle if you do not have an annual State Park Pass on your vehicle. We will be accepting donations for food at the picnic shelter during the event.
Bring: Beverages, picnic seating for your family and your favorite outdoor games (ladder ball, bean bag toss, etc.)
Food: If you have not pre-ordered your meal, we invite you to attend the event but kindly ask that you bring your own food
Rain Plan: In the event of rain, our festivities will be moved to Oakwood Church from 3-7 pm.
Families of those being baptized are also welcome to attend the picnic. Contact in the Oakwood office if you have questions about the picnic or are interested in being baptized - 262-367-1212