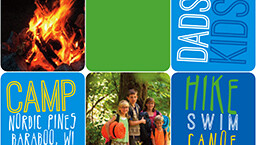 Friday, August 04, 2017, 2:00 PM - Sunday, August 06, 2017, 2:00 PM
Join us for our annual weekend of fellowship and adventure for the men of Oakwood and their children and/or grandchildren.
What: God's awesome creation awaits! We have games, hiking, swimming, rock climbing and plenty of "don't-tell-mom" activities planned. We will also enjoy an outdoor church service, led by a local church, held at the campground on Sunday morning.
When: Friday, August 4
th
– Sunday, August 6
th
Our caravan will leave Oakwood Friday 8/4 at 2 pm, and return early in the afternoon on Sunday 8/16. (Note: If can't make it by 2pm, come up on your own that evening.)
Cost: $15 per family which covers breakfast 2 days, s'mores/camping donuts and firewood. Plus camping fee of $4.50 per person per night with maximum of $18 per family per night.
What to bring: Food for the grills for 3 meals that you and your kids want to eat and your own drinks. Breakfast and s'mores/donuts in evenings will provided. (Grills and stoves will provided and shared.) Plates, cups, utensils provided. Bring clothes for hiking and swimming and your own tent and sleeping gear.