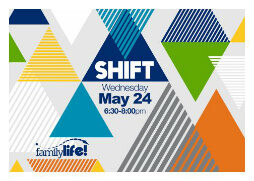 Wednesday, May 24, 2017, 6:30 PM - 8:00 PM
Big changes are coming—shifts in your child's physical, social and spiritual development­, as well as in their ministry experiences. At Oakwood, a shift in ministry programming occurs for students entering 1st, 5th, 7th and 9th grades. This Shift occurs on Promotion Sunday, June 4.
This Waypoint is designed for you and your child to learn how the church and the family can continue to partner together through each of life's shifts.
At SHIFT you will:
Gain more clarity on the vision of Family Life

Meet your new ministry leader

Learn about your new ministry's programming, Bible studies, events and more

Enjoy an ice cream sundae with your new ministry community
Cost: $5
The next Shift class will be offered May 24, 2017. Register HERE.