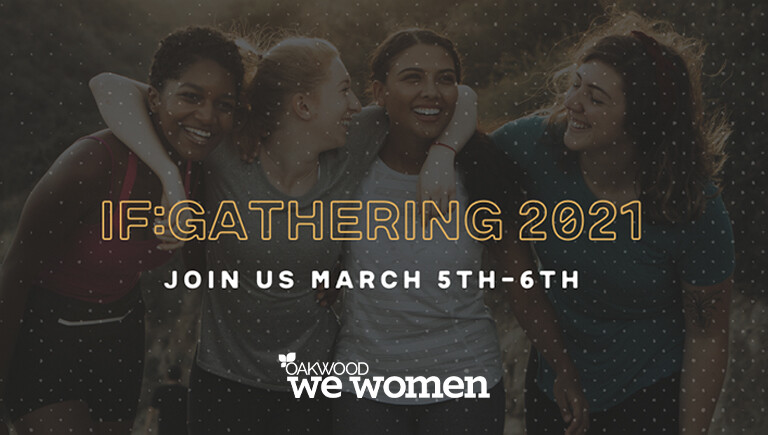 Friday, March 05, 2021, 6:00 PM - Saturday, March 06, 2021, 3:00 PM
And we don't want to miss any part of that. His kingdom is coming. We want His will to be done on this earth as it is in heaven, and our heart and prayer is that "on earth as it is in heaven" starts with us.
Join Oakwood women for IF:Gathering 2021. An international livestream event under the leadership of Jennie Allen, IF:Gathering was born out of the question, "What IF God is real... then what?"
This year at IF:Gathering 2021, the theme is "Even if." We don't lose hope, even if the worst happens. We know our God cannot be stopped and He has a plan for us. Come join us as we remember that together.
Details
Who: Oakwood women age 14+, friends and family
Where: Oakwood Church, Upper Level* -OR- Virtually (from wherever you are!)**
When: March 5 - 6, 2021
Friday night, 6 - 9:30 p.m. (doors open at 5:45 p.m.)
desserts and snacks will be available*
Saturday, 9 a.m. - 3 p.m., optional session (TBD) offered at 8 a.m.
Breakfast items and snacks will be available.*
Lunch options for local pick up and delivery will be provided!
Cost: FREE event
Please register by Monday, March 1.
*We will be following current Oakwood COVID protocols, including physical distancing and wearing masks. Frequent breaks between conference sessions will allow for outdoor breaks. All food and drink will be individually portioned and/or distributed by a volunteer wearing a mask and gloves. Thanks for being sensitive to the needs of others and joining us in these measures! For more on Oakwood's COVID response, check out this blog post.
**For those attending virtually, you'll receive a link to participate via email from Sarah Hayden a few days before the conference.
Questions?
Contact Sarah Hayden, our Women's Ministry Director.