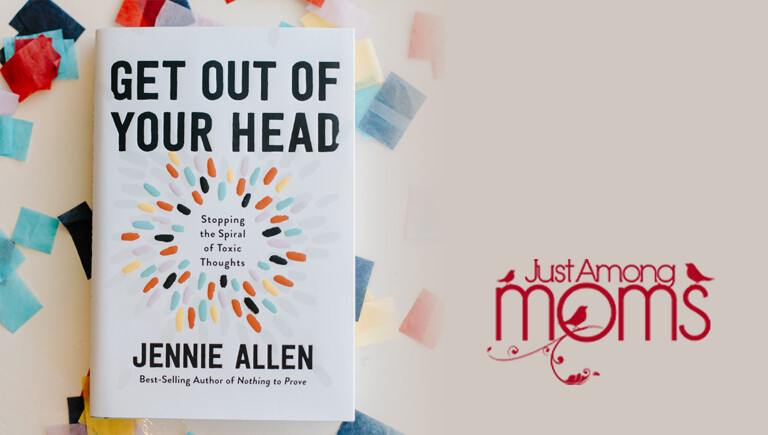 Every Wednesday, from 01/20/2021 to 02/24/2021, 7:00 PM - 8:00 PM
Get Out of Your Head … stopping the spiral of toxic thoughts.
Join us this semester for a popular series by Jennie Allen. In this six-lesson study, we will discuss what it's like to swirl in a spiral of destructive thoughts, such as, "I'll never be good enough. Other people have better lives than I do. God couldn't really love me." Jennie will inspire and equip us to transform our emotions, our outlook, and even our circumstances by taking control of our thoughts.
Each week you will watch a 15-20 minute video prior to our meeting. Please come even if you haven't had time to prepare. When we meet in person we will have a group discussion on that week's topic.
Please note the following:
At the recommendation of Oakwood's Coronavirus Phase Team, our staff has decided we will comply with the Governor's recent mask mandate announcement by doing the following:

Face coverings will be required for ages 5 and up while indoors at Oakwood with others.
Exceptions from the order include individuals with trouble breathing, medical conditions, intellectual or developmental special needs, mental health conditions, or other sensory sensitivities that prevent the individual from wearing a face covering.
A single individual sharing a message or music may remove the face covering when actively speaking/singing.

As of right now, JAM leadership has decided that for the "Get Out of Your Head" series we will continue to require masks, even if the Governor's mandate expires.
Coffee and tea are not available at this time, so please bring your own beverage.
Childcare will not be available at JAM this winter.
We will practice social distancing when possible.
This series is available on Right Now Media. If you do not already have FREE access, please request it here.
We intentionally chose a curriculum that would not require materials for you to purchase. However, there is an accompanying book and study guide, if you are interested.
This study is FREE, but it still helps for you to pre-register so we know how many moms to expect.
Schedule
Wednesday Review BEFORE Meeting Date
January 20 Session 1 "Thought Life" (17 min)
January 27 Session 2 "Spiral Up" (18 min)
February 3 Session 3 "The Weapons We Fight With, Part 1" (17 min)
February 10 Session 3 "The Weapons We Fight With, Part 2" (15 min)
February 17 Session 5 "Forget It" (17 min)
February 24 Session 6 "A Mind Set Free" (19 min)
March 3 NO JAM
March 10 New series TBD, planning on 6 weeks with a week off for spring break
If you have any questions about JAM, please contact Sarah Hayden.