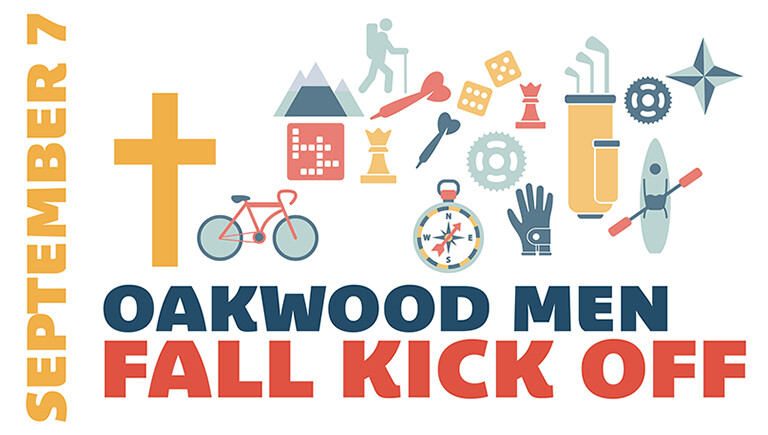 Saturday, September 07, 2019
Join us for the Men's Kickoff 2019!
We have a variety of events going on in the morning and afternoon. Then we'll all come back to church for some dinner and fellowship.

The events will take place at various locations and times, please see below for a list of events and costs (if any) associated with the event. If there is a cost, you will pay the day of at the event. Please use the link at the bottom to register so we know to expect you!
If you are just attending the meal, please register for that also so we know how much food to buy!
Back at Oakwood: 4:30 pm
Meal: 5.15 pm
Suggested meal donation: $15
EVENT OPTIONS:
Backyard Games
Location: Oakwood Church
Time: 2:00 pm
Cost: Free
Games: Corn Hole, Bocci, old timer games and conversation.
Board Games
Location: Oakwood Church
Time: 1:00 pm
Cost: Free
You have probably heard of Monopoly And Risk, but have you heard of Catan, Ticket to Ride or Pandemic? Board games have changed a lot over the years. Join us to learn and play some modern board games.
Cooking Experience
Location: Oakwood Church
Time: 10:00 am
Cost: Free
Information:
Must wear a hat and have closed-toed shoes. Also, if you want to make your favorite recipe, please use the comment box when you register to list a favorite recipe.
Disc Golf
Location: Oakwood Community Park
Time: 2:00 pm
Cost: Free
Information:
Disc Golf is played much like golf…instead of a ball and clubs, players use a flying disc or Frisbee. A disc is thrown from a tee area to a target, which is a basket. As a player progresses down the fairway, he or she must make each consecutive throw from the spot where the previous throw landed. Fewest throws wins!
Bring your own disc. Event leader has a few additional discs that may be borrowed. You can purchase one from Walmart or bring a regular Frisbee.
Foot Golf
Location: Moor Downs Golf Course
438 Prospect Ave
Waukesha, WI
Time: 1:05 pm
Cost: $12.00 for 18 holes; optional $5.00 ball rental; very optional $7.50 cart rental
Information:
FootGolf is the combination of golf and soccer played at your local golf course. It is played by kicking a soccer ball on a golf course with the objective of getting the ball into an over-sized (21-inch in diameter) hole in the fewest amount of kicks.

Bring your own ball to save cost of renting. No soccer or football cleats. Can wear turf shoes or any other athletic shoe. Easy for kids to play along with adults. Easy walking, no cart needed. Wear comfortable walking clothes. Prize will be given for the "best" socks worn.

Golf (9-hole)
Location: Kettle Moraine Golf Course
W365S4299 Hwy 67
Dousman, WI
Time: 1:00 PM – please arrive and be ready to play by 12:45 pm so we can assign you to a group.
Cost: $26 including cart
Kayak/Canoe Trip
Location: Sawyer Road, South of I-94, at the Bark River Bridge
Time: 12:30 pm
Cost: Free
Mountain Biking
Location: TBA
Time: 12:00 pm
Cost: Free
Information:
The group will decide where to bike. The leader of this even will contact those registered as the date draws near.

Motorcycling
Location: Meet at Oakwood
Time: 10:30 am
Cost: Money for lunch and gas for motorcycle
Instructions:
Please show up at Oakwood with a full tank of gas and some cash for lunch. Plan on 3-4 actual hours on your motorcycle. Bring clothing for various weather conditions. We should be back to Oakwood between 4:00 pm and 4:30 pm.
Road Biking
Location: Lisbon Community Park
N78W26970 Bartlett Parkway
Lisbon, WI
Time: Varies – see description
Cost: Free
Information:
There are two route options for the road bicycling event. Please do one or both routes. For those who like a hilly challenge, we'll meet at Matt's house at 8:00 am and bike up to Holy Hill. This is a 15+ mile round trip with over 1,000 feet of climbing. Then at 10:30 am, we'll meet at Lisbon Community Park and ride the Bugline Trail. Following this, we'll have lunch for the riders at Matt's house.
Trail Hike (Ice Age Trail)
Location: Lapham Peak State Park
Time: 1:30 pm
Cost: $7.00 for daily park sticker
Information:
Please bring a good pair of hiking boots, water and bug spray. We will start at the tower and hike down to Hwy 18. Two-hour hike estimate
REGISTRATION IS NOW CLOSED FOR THIS EVENT.
PLEASE CONTACT WITH ANY QUESTIONS.