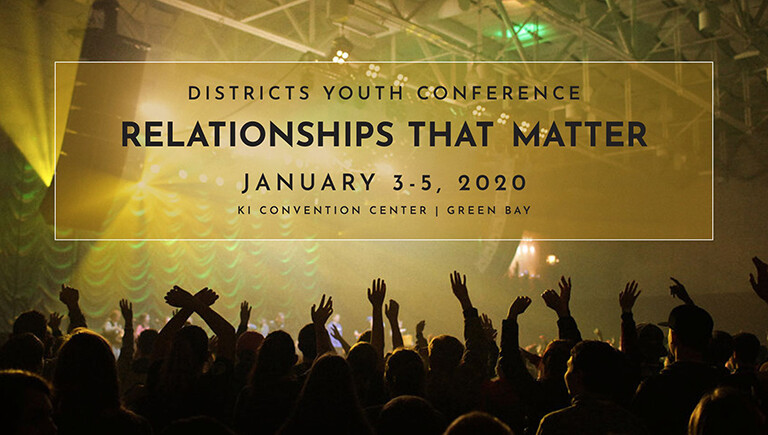 Friday, January 03, 2020, 2:00 PM - Sunday, January 05, 2020, 3:00 PM
WHO: High School Students
WHAT: Districts 2020 Youth Conference: Relationships that Matter

Click HERE for Keynote Speaker, Worship Band and Special Guests information.
Click HERE for the conference schedule.
WHEN: January 3-5, 2020
WHERE: KI Convention Center, Green Bay, WI
COST: $150 (includes transportation, conference registration, hotel and some meals*)
_______________________________________________________________
Departure & Arrival Information:
Friday, January 3:
Students and adult leaders meet at Oakwood at 2pm. Students and leaders will depart at 2:30pm.
Students and leaders arrive in Green Bay at approximately 5pm.
Students and leaders check into hotel.
Dinner will be provided at 5:30pm.
Sunday, January 5:
Students and leaders will depart from Green Bay at approximately 11:30am.
Approximate arrival time at Oakwood is 2:30-3pm.
*Students will be responsible for 3 meals while at the conference (Saturday lunch and dinner, and lunch on the way home on Sunday).

Suggested budget: $7-$10/meal.
_______________________________________________________________
Fundraising for Districts:
Sign up to serve at Divine Consign Sunday, October 20 - Saturday, October 26. Proceeds from sales during the event will benefit each individual student who serves. Parents are welcome to serve on behalf of their students. Click
HERE
for more information and to sign up.
Scrip Fundraising
-
Shop with gift cards in everyday categories including groceries, gas, restaurants and more.
A percentage of each gift card purchased goes directly to your student's account. A Scrip order is placed the third Friday of every month at noon.
Go to
www.shopwithscrip.com
for more information. If you do not have an account with Scrip, you will need Enrollment Code 6B598B26539L6 to join the OSM group.
Fundraising monies can be used to supplement the cost of student events, camps, trips and mission experiences. Please contact
Carrie Ziebell
if you have questions about these fundraising opportunities.