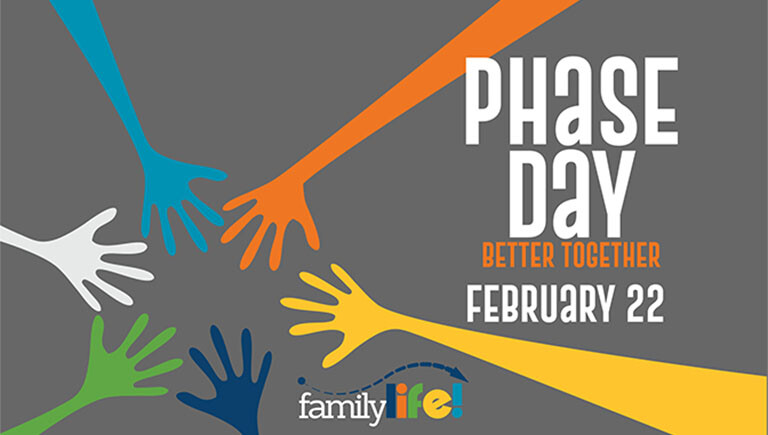 Saturday, February 22, 2020, 9:00 AM - 11:00 AM
PHASE DAY has been created to encourage, equip, empower and energize the entire family! We'll begin with a fun orientation for everyone followed by these phase-specific Waypoints for parents and kids to experience together:
MOSAIC (Kids Quest) - At this Waypoint, families will pray together and discover how they can lay the foundation for the life-long discovery of talking with God. New ideas on how prayer can become a normal and fun part of your family journey will be shared each year, so plan to make Mosaic an annual tradition. Led by Becci Terrill, Children's Director.
MATRIX (Middle School) - Discover how your gifts, talents, passions and experiences connect to make you uniquely qualified to serve those around you. At this Waypoint you will also hear about ways to develop a devotional life to continue learning and growing. Led by Myles Hanson, Middle School Director.
LEAD

(9th-11th grade) - Followers of Jesus are called to share the Gospel. Grow in your confidence and be better prepared to tell others about Jesus. Come be equipped to share your faith! Led by Al Spiegel, Oakwood Church Elder and High School Volunteer.
12 STONES

(12th grade only) - High school seniors and their parents will gather together to look back at their spiritual journey so far, as well as spend some time looking forward. We will explore how each senior could make this the BEST year yet! Led by Josh Larson, High School Director.
Maximize your disciplemaking impact at home! Join us, Saturday, February 22, as we engage in the some of the most important conversations of faith development.
9am: Registration and Continental Breakfast
9:30am: Welcome & Family Devotional
10am: Waypoint Break Out Sessions
11am: Closing
Each Waypoint is designed for students to experience with a family member. Please be sure an adult is available to attend each phase-specific Waypoint with a registered child. The cost is only $5/child with a $15 family maximum.
Online registration for Phase Day is closed. If you would like to attend please contact Carrie Ziebell, Family Life Ministry Assistant (262-367-1212) before 2pm on Friday, February 21. Thank you.