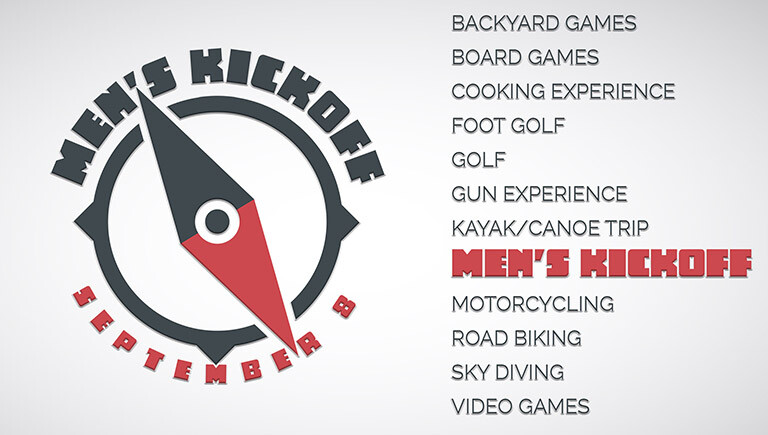 Saturday, September 08, 2018, 4:30 PM - 8:00 PM
Join us for the Men's Kickoff 2018!
We have a variety of events going on in the morning and afternoon. Then we'll all come back to church for some dinner and fellowship.

The events will take place at various locations and times, please see below for a list of events and costs (if any) associated with the event. If there is a cost, you will pay the day of at the event. Please use the link at the bottom to register so we know to expect you! If you are just attending the meal, please register for that also so we know how much food to buy!
Meal is at 4:30 pm
Suggested meal donation: $15
EVENT OPTIONS:
Backyard Games
Location: Oakwood Church
Time: 2:00 pm
Cost: Free
Board Games
Location: Oakwood Church
Time: 1:00 pm
Cost: Free
Cooking Experience
Location: Oakwood Church
Time: 10:00 am
Cost: Free
Information:
Must wear a hat and have closed-toed shoes. Also, if you want to make your favorite recipe, please use the comment box when you register to list a favorite recipe.
Foot Golf
Location: Moor Downs Golf Course
438 Prospect Ave
Waukesha, WI
Time: 1:00 pm
Cost: $12.00 for 18 holes
Information:
FootGolf is the combination of golf and soccer played at your local golf course. It is played by kicking a soccer ball on a golf course with the objective of getting the ball into an over-sized (21-inch in diameter) hole in the fewest amount of kicks.

Bring your own ball to save cost of renting. No soccer or football cleats. Can wear turf shoes or any other athletic shoe. Easy for kids to play along with adults. Easy walking, no cart needed. Wear comfortable walking clothes. Prize will be given for the "best" socks worn.
Bring your own soccer ball or rent one for $5.00 additional fee. Cart rental is also available for $7.50 per person.
Golf
Location: Kettle Moraine Golf Course, Dousman, WI
Time: 1:00 PM
Cost: $26 including cart
Gun Experience
Location: McMiller Sports Center. Eagle, WI
Time: 1:00 pm
Cost: $20 Plus $10 for ammunition
Information:
1. If a minor is participating, they must be accompanied by a parent or legal guardian.
2. After you register you will be emailed a form that needs to be filled out and brought with you to the event.
Kayak/Canoe Trip
Location: Sawyer Road, South of I-94, at the Bark River Bridge
Time: 12:30 pm
Cost: Free

Motorcycling
Location: Meet at Oakwood
Time: 10:30 am
Cost: Money for lunch and gas for motorcycle
Instructions:
Please show up at Oakwood with a full tank of gas and some cash for lunch. Plan on 3-4 actual hours on your motorcycle. Bring clothing for various weather conditions. We should be back to Oakwood between 4:00 and 4:30pm.
Road Biking
Location: Lisbon Community Park
N78W26970 Bartlett Parkway
Lisbon, WI
Time: 9:30 am
Cost: Free
Information:
Bring your bicycle and helmet! Riders of all abilities are welcome. We will ride together, but as the day goes on, riders can opt into more challenging routes. We will all start with a 10-20 mile ride on the Bugline Trail, leaving from the parking lot of Lisbon Community Park. When we return to the park, riders have the choice to ride or drive 4.5 miles to Matt's house for lunch. After lunch, riders who drove can call it a day, those who rode can either cruise back 4.5 miles to their vehicles at Lisbon Community Park or join in a 20-mile Holy Hill loop (with 1,000+ ft of climbing). This loop will end at Lisbon Community Park in the mid-afternoon. All riders will have time to go home and shower before meeting back at the church by 4:30.
So the three ride options are 1) 10-20 flat miles, 2) 20-30 miles with some climbing, or 3) 40-50 miles with some challenging hills around and up to Holy Hill.
Sky Diving
Location: Meet at Oakwood
Time: 11:00 am
Cost: $160 per person
Information:
Come jump out of an airplane at 14,500 ft and freefall 6000ft at speeds of 100+mph! We will be jumping attached to a professional jumper (tandem). We will meet at Church at 11:00 am and drive together to East Troy.

Video Games
Location: Oakwood Church
Time: 1:00 pm
Cost: Free