Wednesday Night Community - Fall 2017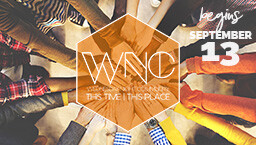 Wednesday Night Community (WNC) is designed for this time and this place…for us to connect in meaningful ways with each other and with Jesus, to make a difference in the lives of others, to focus anew on the call to love God, love others and make disciples.
Trimester 1 starts Wednesday, September 13, through Wednesday, November 15, from 5:30-8 pm.
Weekly table fellowship at The Café, followed by on-site small groups for all ages: intentional spaces where together we are transforming. in community. on mission. The Café at Oakwood will be serving from 5:30 - 6:30 pm with small groups starting at 6:30 pm.
To see the current Cafe' at Oakwood Menu, please click here.
Can't wait to see the "immeasurably more" our God has in store this year!
For Kids
Preschoolers (ages 3-K) and elementary kids (1st -4th graders)
connect in an interactive setting: a space where they can develop healthy, nurturing relationships with other kids their age, with caring adults and with God. In small groups, they'll apply biblical truths in attention-grabbing activities/ service projects. We're energizing the next generation to love God, love others and make disciples! NOTE: Nursery care is provided for parents attending an on-site small group.
Quest56
(5th and 6th grade ministry) With a high-energy format that includes activities, service projects, mentors, and prayer, we'll grapple with pre-teens' toughest questions and the Bible's smartest answers. Our focus is on students' owning their faith, and growing their relationships with Jesus and with each other.
Student Ministries
Jr High
We'll begin with an Oakwood-created devotional exploring practical ways for us to actually BE the church, identifying how to live out: "Once you were not a people, but now you are God's people"! Next up is The John 3:16 Factor by Cadre Ministries, equipping us to overflow God's love to those who don't know Him personally.
Sr High
With so many questions, opinions, and interpretations among people today—even within the church—what is actually essential to Christian faith? Using Matt Chandler's DVD series, The Apostles' Creed, we'll look at the foundations of Christianity--growing and living as disciples of Christ, and experiencing a profound sense of belonging within the kingdom of God.
Co-Ed Groups For Adults
Please note: To ensure optimal community, each on-site small group can sometimes reach its maximum capacity for the trimester. Please register in advance using links by each study.
Please register for adult, men's and women's studies HERE.
Spiritual Parenting
What's God's desire for our children? Hearts that are shaped in vibrant faith and love toward Him and others. We'll empower parents to be the primary nurturers of their children's faith, teaching them to create a home God can use to work in their children's lives. The author, Dr. Michelle Anthony, will be at our Parent Summit on 9/23. Suggested book donation is $10.
Resolving Everyday Conflict

So how does a disciple of Jesus steward conflict well? Together, we'll find the powerful and practical answers in this DVD series from Peacemaker Ministries that will forever change how conflict looks in your life. Suggested study guide donation is $13.
GriefShare
If you've lost a spouse, child, family member, or friend, you know that healing from your grief is not easy. It's a long, sometimes painful process. GriefShare can help you face the many challenges and move toward rebuilding your life. Suggested study guide donation is $15.
Titus
How do we display the gospel in our lives? Through doing good. We do good works not to earn God's favor, but as a result of God's favor. When the gospel has truly taken root in our lives, it produces vivid fruit. This DVD series with Chip Ingram unpacks the New Testament book of Titus in rich, applicable ways.
Campfire Couples
Meeting outside by the campfire, let's actually dialogue about marriage…and then truly act on it. What would it take for us to move closer to "more" for our marriages…more healthy, more of what God has in mind. (btw: we'll move inside in inclement weather!)
For Men
33 The Series: volume 3

Join us for this DVD series designed to equip men to pursue authentic manhood as modeled by Jesus Christ in His 33 years on earth. "A Man and His Traps" provides practical teaching, powerful testimonies, and creative elements to help men avoid or escape the destruction that falling into traps can bring.
For Women
Next Step Conversations - This group is at capacity
Been thinking about what it means for you to take the next step spiritually? Join the conversation as we explore different aspects of what truly following Jesus means. We'll respond together to a variety of video teachings designed to lead us to the Word of God, prompting thought and robust dialogue.
Nehemiah: A Heart That Can Break
It took a heart that could break to restore a wall that was broken. Kelly Minter's DVD study of Nehemiah will inspire you to listen to what God has put on your heart to do. Nehemiah's life shines on the current call of the church to be the hands and feet of Jesus. Suggested workbook donation is $13.