Preschool & Elementary: Week of February 4, 2019

Valentine's Day is just around the corner…
Are you looking for a way to make Valentine's Day special for your family? Check out these fun ideas from Parent Cue.
Wednesday Night Programming:
With the snow and extreme cold the past two weeks, we haven't been able to have programming, but God-willing, it looks like everything is back on this week. Praise Jesus! Both preschool and elementary kids will be looking at the life of Jacob in the book of Genesis. I hope you can join us from 6:15-8pm this week!
Here's what we'll be talking about on Sunday, February 10th—
Elementary—God is Merciful
Jonah1-4 (Jonah)
In the Old Testament, there were many times God used prophets—men and women who shared God's words with the people. One of these prophets was Jonah. God had a special job for Jonah and asked him to share His message with the people in Ninevah.
Ninevah was the capitol city of the Assyrians—enemies of Israel. The people in Ninevah were wicked. Jonah had no desire to share God's words with those wicked people, so he ran away.
Although Jonah ran away, God showed mercy. God sent a storm that terrified everyone on the ship with Jonah. But Jonah knew the storm was from God. When the sailors threw Jonah into the sea, God had mercy and the storm stopped. God had mercy on Jonah, too, by sending a big fish to swallow him up!
Inside the big fish, Jonah repented and God had mercy on him one again. This time, Jonah obeyed God and shared His message with the people of Ninevah. They believed God's message! God had mercy on the people of Ninevah and spared their lives!
How has God showed mercy to you? Is there a time when you tried to run away from something God wanted you to do? I'm so grateful for a God who pursues me and forgives!
February Bible Verse: Psalm 83:18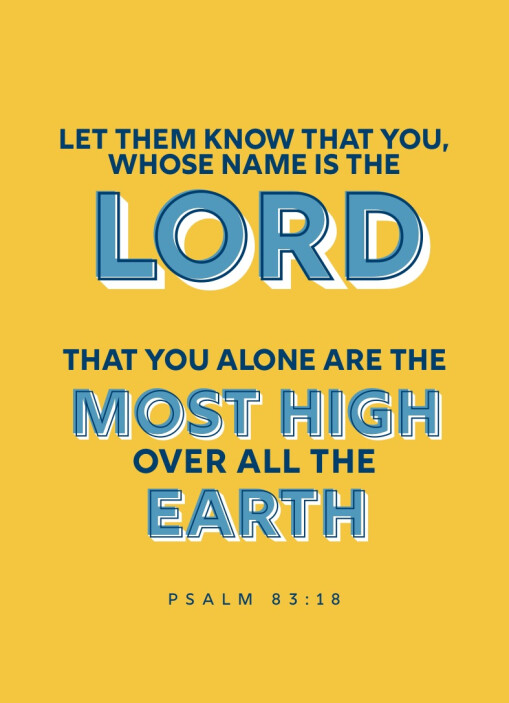 Preschool—God is Gracious
Jonah 1-4 (Jonah)
This week we'll meet a man named Jonah. Jonah loved God. When God asked Jonah to go to Ninevah and give the people a message, instead of obeying God, Jonah got on a boat and went the opposite way! While Jonah was on the boat, God sent a powerful storm. Everyone was afraid. Jonah knew God had sent the storm because he had disobeyed God's words. So Jonah told the sailors to throw him off the boat. As soon as they did, the storm stopped! Then, God sent a big fish to swallow Jonah! Jonah lived in the belly of the fish for three days and three nights. During that time, Jonah prayed and told God how sorry he was for disobeying Him. God forgave Jonah and told the big fish to spit Jonah out on dry land. This time, Jonah obeyed God and shared His message with the people of Ninevah. God was gracious to Jonah—and allowed him to live and share God's message with others.
February Bible Verse: Psalm 55:16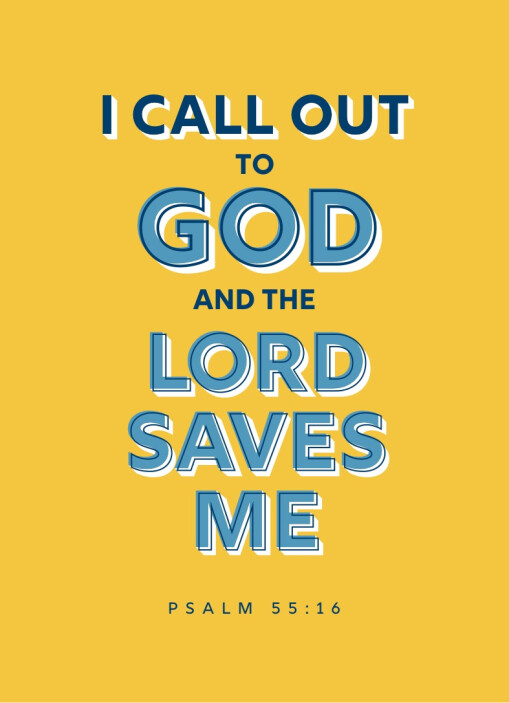 2 Year Olds–Jesus Cares
(Matthew 14; Mark 6; Luke 9; John 6:1-15) Feeding the 5,000
Foundational Truth: God Loves Me
In each account of this story, Jesus' compassion is always followed by an action. He was moved so deeply that the natural response was action. Jesus sees our needs and responds. That's how much He cares for us!
How should this impact us? Do we see and respond to others with action like Jesus? Hmm… It gives me something to think about. The old saying, "Actions speak louder than words" still goes a long way to communicate what I truly believe. Jesus not only said He cared about others, He acted on it. What are my actions saying about me?
Looking for an opportunity to act on your love for others? Join us this Saturday morning as we make blankets for hurting children in our community!
Kids Quest Offering—VBS Supplies for Guatemala!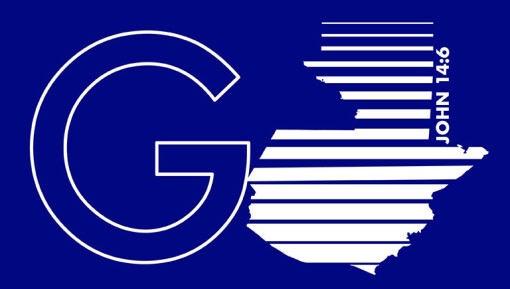 Our offering this past Sunday came to $12.86, bringing our total to $111.80.
Only $138.20 until we reach our goal of $250 for VBS supplies. Yay!
This Sunday, we'll hear from some of our youth who've been to Guatemala and are looking forward to going back this summer. I'm excited to hear what they have to share with us.
Service Opportunity: Make Hand-Tied Blankets—Sign up today!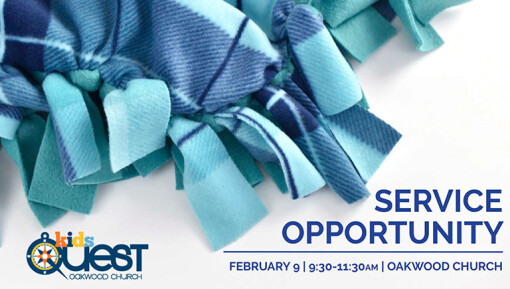 Elementary kids and their parents are invited to join us at Oakwood Church from 9:30-11:30am as we make hand-tied polar fleece blankets for the Ronald McDonald House in Wauwatosa. Would you like to donate materials? Make sure polar fleece is 1.25 yards in length for both the top and bottom panels. Sign up to help with this special project HERE.
SpringHill Day Camp—Early Registration begins February 14th!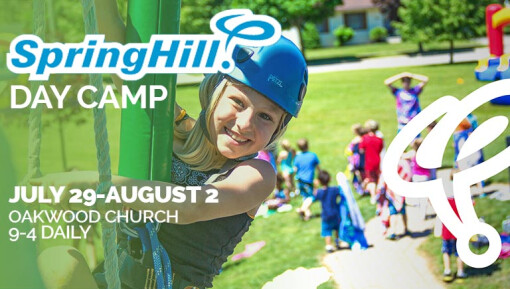 Each summer, Oakwood Church hosts SpringHill Day Camp for one week. It's an adventure camp for kids going into 1st -6th grade this coming fall.
Camp is held Monday-Friday from 9am-4pm. The days are filled with large group time, skits, music, small group time and tons of fun activities—Euro Bungee, the Flying Squirrel, Rock Wall Climbing, Water slides, the Giant Swing—just to name a few! The best part is everything is centered around God's Word and what God is teaching kids through each activity. There's nothing like it in our area.
Want more information? Click HERE and don't forget to sign up on February 14th for the best price!
Becci
Becci Terrill
Children's Ministries Director
262-844-3201 (cell)
262-367-1212 (office)
Energizing the Next Generation to Love God, Love Others
and Make Disciples
2/5/19