Preschool & Elementary School: Week of June 10, 2019

What adventures do you have planned this summer?
Adventure.
The word itself makes my heart beat faster and I can feel the excitement rise within. I also get a little nervous. How about you? Do you flash back to a special place or time when you think about adventure? Or, do you wonder what new experience might be ahead?
"We—as people—are born for adventure. We're meant to do things that challenge us."
I read this quote by Mike Tiemann in an article for parents this week, and it made me pause. What adventures do I have planned this summer?
Adventures don't have to cost money, and don't need to take us to far away places. The important thing is having an adventure, and doing it with people you love.
I encourage you to check out this article: How to Make the Most of a Family Adventure, and plan to have an adventure with your family this summer. Who knows what memories your family will make, and remember for the rest of your lives. I'd love to hear all about it!
Here's what we'll be talking about on Sunday, June 16th—
Elementary—God is the One True God
Acts 6-7 (Stephen is Martyred)
The young church of Jewish people who believe in Jesus is growing. This causes trouble for the Jewish establishment. One of the believers who's causing "trouble" is Stephen, a man filled with God's grace. Stephen is brought before the Sanhedrin, the Jewish court, and accused of blaspheming God and Moses. They think Stephen is rejecting God's teaching on the Law, and the temple. The Sanhedrin wants to protect what they believe is truth.
Stephen, filled with the Holy Spirit, shares with the Sanhedrin how Jesus fulfills the areas the Sanhedrin is concerned about. He also points out Israel's history and God's love for them.
The leaders aren't interested in what Stephen has to say and they begin to stone him, something that is against the Roman law. Stephen becomes the first Christian martyr, and persecution breaks out for other believers. Stephen's death and the persecution that followed helps spread the Good News far and wide.
June Bible Verse: Acts 1:8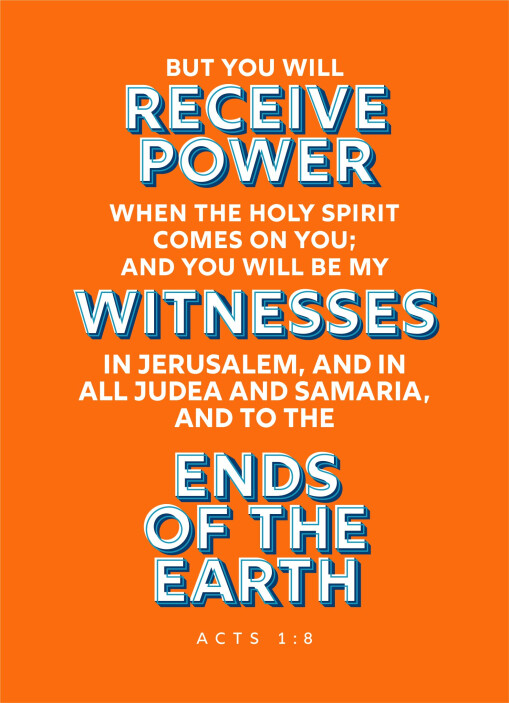 Preschool—God is Provider
Acts 3 (Beggar at the Gate)
One day while Peter and John were walking to the temple, they saw a man who could not walk. He had been like this since he was born. He asked Peter and John to give him some money. Peter told the man that he didn't have any money to give him; he had something better. Peter told the man to get up and walk. Suddenly, the man could walk! God used Peter to heal the man. God didn't give the man what he wanted (money); He gave the man what he truly needed. God is Provider! The man was so excited he began jumping and praising God! Everyone who saw him was filled with wonder and amazement.
June Bible Verse: Acts 2:28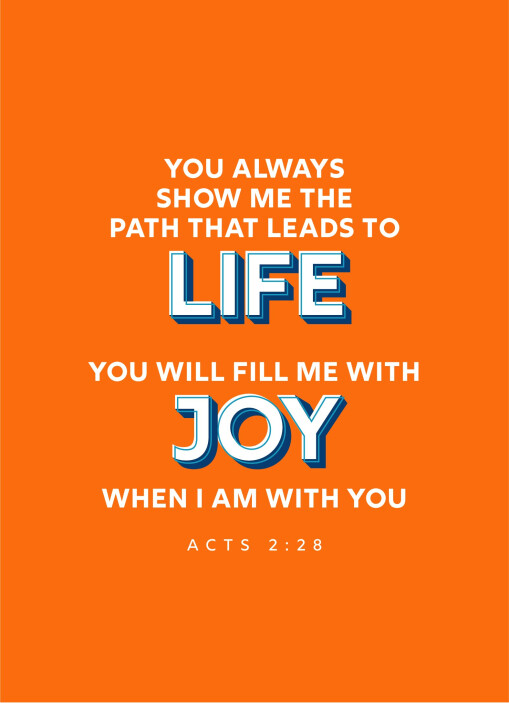 2 Year Olds–God Takes Care of Me
I Kings 17 (Elijah and the Ravens)
Foundational Truth: God is with Me
We continue looking at God's Big Story and see how God is with individuals—just as He will be with us. This week we'll hear about a man named Elijah. God used him to talk to a very bad king. Then God did some amazing things to take care of this man—birds brought his food! Wouldn't you have loved to see that on youtube?!
Our God cares for us in such awesome ways. How has He taken care of you and your family? I hope you take time to share these stories with your children. This will help them see that the God who took care of Elijah, will also take care of them today—no matter what the circumstance.
Summer Offering Project—What will it be??
Our offering on Sunday came to $37.73, giving us a total of $56.59 towards our next offering project.
We're still looking for ideas. If your child has any thoughts about where he/she would like to direct our offerings please let me know. Thank you!
SpringHill Day Camp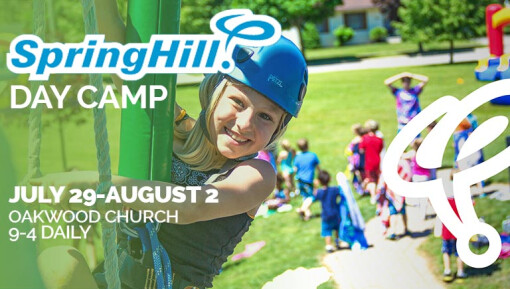 There's still time to get your 1st -6th grader (in fall) signed up for camp. Need a scholarship? We have several still available. Please contact me for details. Click HERE to register for camp.
Camp Discovery – Preschool Day Camp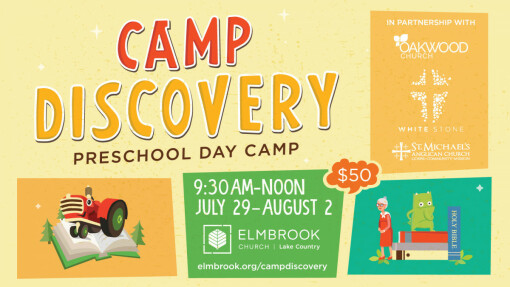 They're still time to get your 3-5 year old registered for camp. It will be a week packed with fun learning about God! Click HERE to register for camp.
Attention 4th & 5th graders - it's Movie Day!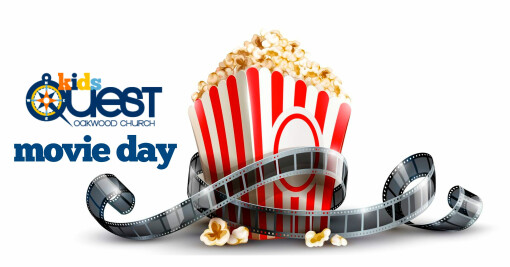 For more information and to register click HERE.
Enjoy your week!
Becci Terrill
Children's Ministries Director
262-844-3201 (cell)
262-367-1212 (office)

Energizing the Next Generation to Love God,
Love Others and Make Disciples

6/11/19