Preschool & Elementary School: Week of July 8, 2019

Make the Most of Summer: Get to Know Your Kids!
How's your summer going? We just celebrated America's birthday with all the fireworks, parades, picnics and parties, but we still have a LOT of summer left. Hurray! So what do we do now?
Carlos Whittaker in Making the Most of Summer: Get to Know Your Kids, encourages us to "get to know your kids." We all "know" our kids, but the older they get, the more quickly they change, and it's easy for us to grow apart. We need to fight for our kids! What's one thing your kid is into this summer that you could do with them? Fishing? See a new movie? Get your nails done? These moments of quality time spent getting to know your kids will go miles in building memories and relationships. After all, they're only little once. Make the most of summer with your kids!
Church-to-Go!
Wherever your travels may lead. Designed for elementary and preschool children, Church-to-Go gives families options for leading a church-like experience with their families on the go. Sign up today to get your Church-to-Go box HERE!
_______________________________________________________________
Here's what we'll be talking about on Sunday, July 14th—
Elementary—Jesus is Master
Acts 18 (Paul with Priscilla & Aquilla)
In Acts 18 we read about Priscilla & Aquilla, a husband and wife who were forced to leave their home in Rome and start over in the city of Corinth. All because they loved Jesus!
This was all part of God's Master plan. In Corinth, Paul met Priscilla & Aquilla, and together they traveled to Ephesus. While they were there, Priscilla & Aquilla were able to teach others about God and the Good News.
Paul did the same thing, continuing his travels to other towns, and sharing the Good News everywhere he went. Paul knew that Jesus is master of all—even his travels!
NEW! July Bible Verse: John 10:27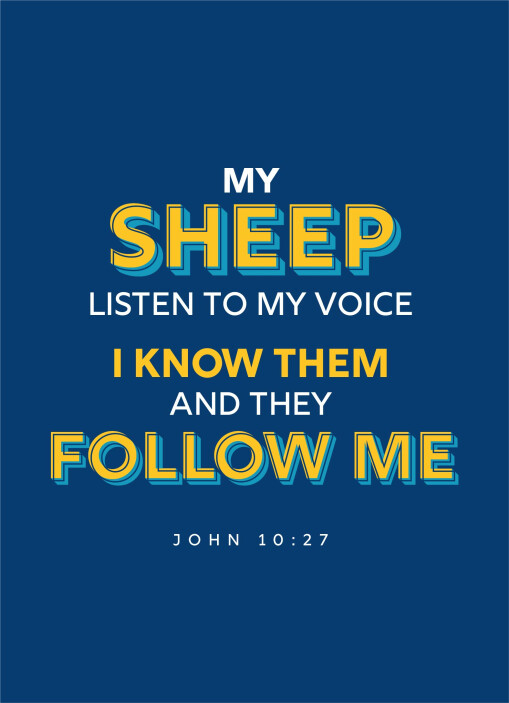 At Home Weekly: TRUStory
Preschool—God Leads His Church
Acts 11 (The Early Church)
Before Jesus came and died, God's people had a lot of rules to follow so that everyone would know God had a special plan for them. Sometimes the people thought more about following the rules about eating certain foods than they did about loving God and sharing His love with others!
After Jesus went back to heaven, He wanted His followers to share His love with everyone! It didn't matter if they followed the old rules about eating certain foods. Loving God and loving others was more important. People would know they loved Jesus because the Holy Spirit lived inside them now, not because they did or didn't eat certain foods.
NEW! July Bible Verse: Romans 10:13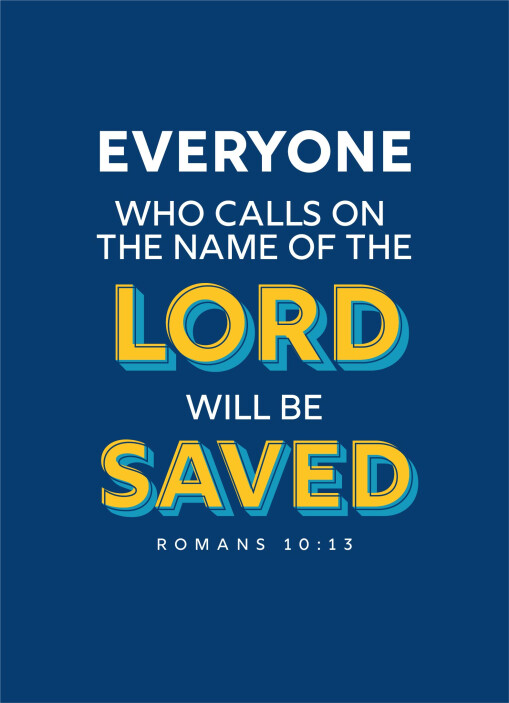 At Home Weekly: TRUWonder
2 Year Olds–Our God Saves
Jonah 1-4 (Jonah)
Jonah was a prophet of God sent to take a message to the people of Nineveh. He decided to run from God instead. A great storm began to overpower the boat Jonah was in. Jonah insisted the sailors thrown him overboard in order to end the storm. The storm stopped, and God rescued Jonah by sending a big fish to swallow him. When Jonah was inside the belly of the great fish, he prayed to God for forgiveness. God heard Jonah and rescued him from the great fish! God told Jonah to go to Nineveh again, and this time Jonah obeyed. The people of Nineveh heard the message and believed God.
At Home Weekly: TRUBlessings
Summer Offerings—School Supply Kits for HeartLove Place!
Our offering on Sunday came to $16.74, giving us a total of $98.18 in offerings.
We'll talk on Sunday to see if the kids want to use their offerings to buy back-to-school supply kits for children in Milwaukee or another project. Praise Jesus!
_______________________________________________________________
VBS in Milwaukee in partnership with Heartlove Place: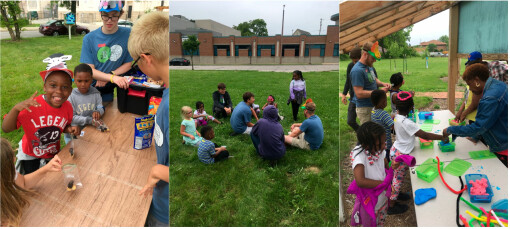 We need volunteers to help with the
HeartLove Place
VBS in the city next week (event sponsored by High School Ministry). This three day event, July 16-18th, will run from 11am-1pm with lunch provided.
Plan to leave Oakwood each day at 10am and return around 1:30pm.
Middle and High School students are encouraged to sign up to help run the VBS. Elementary students can sign up to help with a parent. Click HERE to register.
4th & 5th Graders Save the Date! - Pool Party on July 24th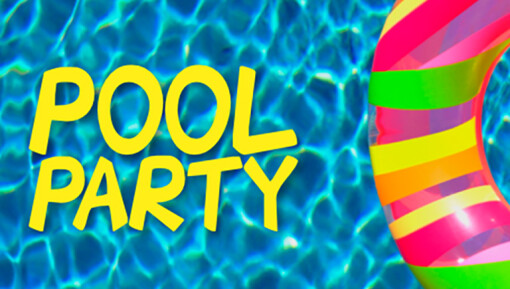 WHO: Current 4th & 5th Graders
WHAT: Summer Fun & Pool Party
WHERE: The Murray's Pool | W300N8818 County Road E, Hartland
WHEN: Wednesday, July 24 from 6:30-8pm

COST: FREE! Bring a Friend (or 2)!
SpringHill Day Camp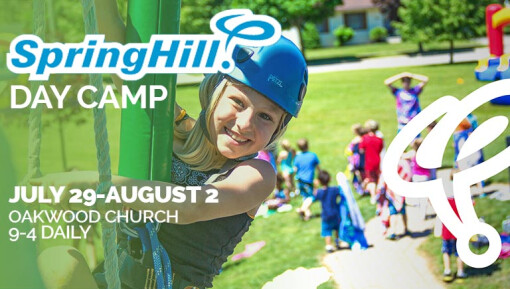 There's still time to sign your 1st – 6th grader up for camp! Need a scholarship? We still have a few available. Contact me today! Click HERE to register for camp now!
Camp Discovery – Preschool Day Camp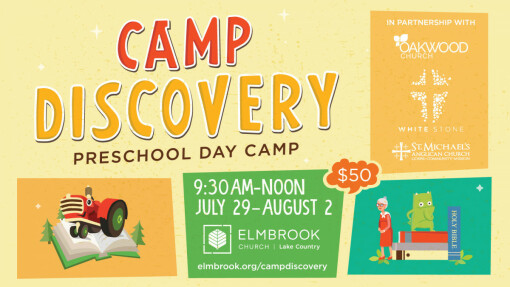 This is a great opportunity for your 3-5 year old to experience summer camp in a fun & safe environment—all while learning about Jesus! It's just down the road from Oakwood at Elmbrook Lake Country. Click HERE for more information and to register.
I hope you're having an awesome summer!
Becci Terrill
Children's Ministries Director
262-844-3201 (cell)
262-367-1212 (office)

Energizing the Next Generation to Love God,
Love Others and Make Disciples
7/8/19