Preschool & Elementary School: Week of January 28, 2019

Wednesday Night—CANCELED JANUARY 30TH!
Due to the extremely cold temperatures that we are experiencing, all Wednesday night programs have been canceled this week. Lord wiling, we'll be back together on February 6th.
Here's what we'll be talking about on Sunday, February 3rd—
Elementary—God is the Lord of Life
II Kings 5 (Elisha & Naaman)
II Kings 5 gives us a wonderful example of how God is the Lord of life. We meet Naaman, a highly regarded commander of the army of Aram. Naaman got a deadly skin disease called leprosy.
There was no cure for leprosy. Naaman didn't have any hope of getting better. But God had placed a servant girl from Israel in Naaman's household. She loved God, and told Naaman about the prophet in Israel who could heal him!
Naaman wasted no time going to find help. But, when Naaman arrived at the prophet Elisha's home, Elisha didn't even bother to come out to talk with him. Elisha sent his servant to tell Naaman what to do to be healed—wash 7 times in the Jordan River.

Naaman was furious and almost refused to follow directions. Thankfully, Naaman changed his mind! After dipping in the Jordan River 7 times, God healed him! Naaman's skin was clean!
Not only was Naaman's body healed, but Naaman's heart was changed too. In II Kings 5:15 Naaman says, "Now I know that there is no God in all the world except in Israel."
Wow! God is Lord of life—He can heal our physical diseases as well as our sinful hearts through faith in Jesus.
NEW February Bible Verse: Psalm 83:18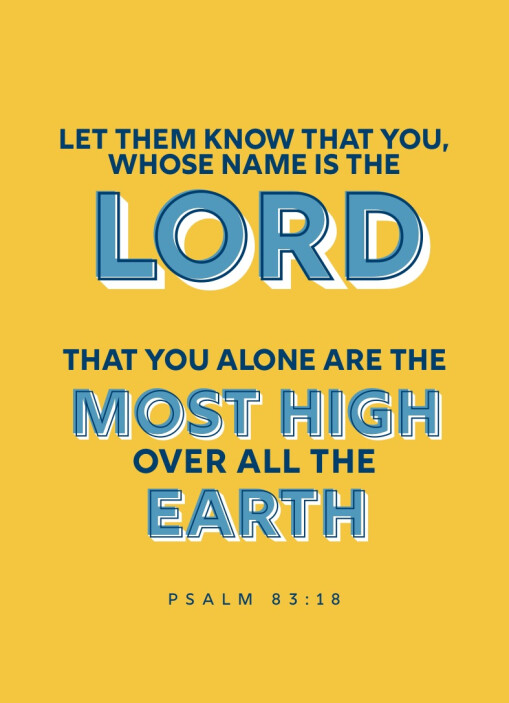 Preschool—God Heals
II Kings 5 (Naaman Healed)
There once was a man named Naaman. Naaman had a sickness on his skin called leprosy that no medicine or doctor could heal. A servant girl from Israel worked for Naaman's wife. She told Naaman to go see the prophet Elisha to be healed. Elisha was a prophet of God. Naaman went to Israel, but when he arrived at Elisha's house, Elisha's servant told Naaman to go to the Jordan River and wash himself seven times. At first Naaman didn't want to do this, but then he listened and did what Elisha's servant said. After Naaman washed seven times, the leprosy on his skin was gone! God showed Naaman that He is a God who heals!
NEW February Bible Verse: Psalm 55:16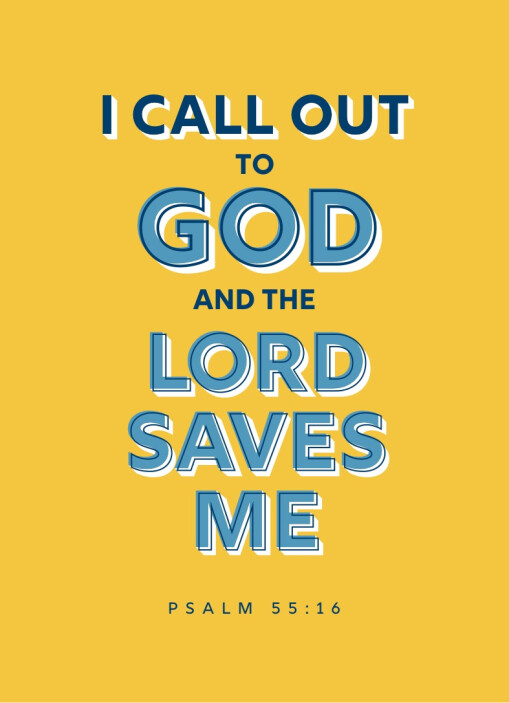 2 Year Olds–Jesus Cares
(Matthew 14; Mark 6; Luke 9; John 6:1-15) Feeding the 5,000
Foundational Truth: God Loves Me
This story is near and dear to my heart. Jesus shares His heart with the people in so many ways: He shares words of encouragement and love, He heals the sick, He feeds them physically, and Jesus receives a young boy's gift and does the impossible.
What does this story teach us? Jesus knows each of us and exactly what we need, and He cares! This is such an important spiritual truth for our children to learn. Jesus knows them individually and cares about every detail of their lives.
Look for ways to show your little one this week how Jesus cares for them.
Kids Quest Offering—VBS Supplies for Guatemala!
Our offering this past Sunday came to $4.25, bringing our total to $98.94.
Only $151.06 until we reach our goal of $250 for VBS supplies. Yay!
Service Opportunity: Make Hand-Tied Blankets—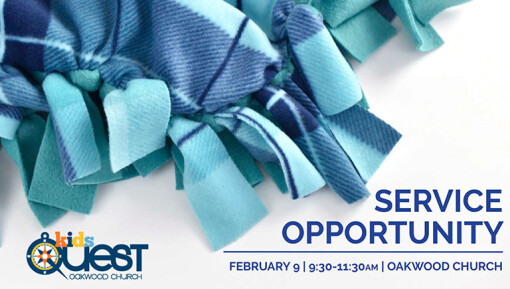 Elementary kids and their parents are invited to join us at Oakwood Church from 9:30-11:30am as we make hand-tied polar fleece blankets for the Ronald McDonald House in Wauwatosa. Would you like to donate materials? Make sure polar fleece is 1.25 yards in length for both the top and bottom panels. Sign up to help with this special project HERE.
SpringHill Day Camp—Early Registration begins February 14th!

Each summer, Oakwood Church hosts SpringHill Day Camp for one week. It's an adventure camp for kids going into 1st -6th grade this coming fall.
Camp is held Monday-Friday from 9am-4pm. The days are filled with large group time, skits, music, small group time and tons of fun activities—Euro Bungee, the Flying Squirrel, Rock Wall Climbing, Water slides, the Giant Swing—just to name a few! The best part is everything is centered around God's Word and what God is teaching them through each activity. There's nothing like it in our area.
Want more information? Check out the SpringHill website HERE and don't forget to sign up on February 14th for the best deals!
Becci Terrill
Children's Ministries Director
262-844-3201 (cell)
262-367-1212 (office)

Energizing the Next Generation to Love God, Love Others
and Make Disciples
1/29/19