Preschool & Elementary School: Week of January 27, 2020

Hi Families!
Winter is all around us. I love the beauty of the snow and the way the ice glistens on the trees. Wisconsin can be a wonderful place to be this time of year.
If you'd rather think about warm weather and sunshine, than this announcement is for you. SpringHill Summer Day Camp registration opens on February 14th!
Camp is for kids who will be going into 1st through 6th grade (as of September 2020) and is designed to give your kids high energy, adventure experiences that point them to Jesus. Every day is packed with fun, and kids absolutely love it!
Watch for more information about camp this summer and how to sign your kids up. Scholarships are available.
WEDNESDAY, January 29th—Here's what we learned
ELEMENTARY: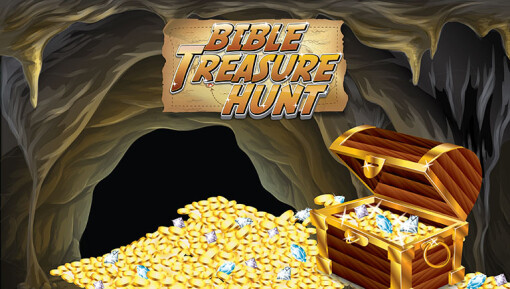 Our Bible Treasure Hunt continues as God warns us to watch out for robbers—those who would steal our treasure. (John 10 & I Peter 5:8-9)
PRESCHOOL: (3 years old through Kindergarten)
We're continuing our focus on how God provides everything that we need. This week we'll see how God provided a place for Elisha to stay (II Kings 4:8-10). God will provide what we need, too!
Here's what we'll be talking about on SUNDAY, February 2nd—
Elementary—God Blesses
I Kings 1-6 (Solomon, Pt, 1)
God bless you!
We often say this after someone sneezes, but what does it really mean?
Throughout the Bible we see how God blesses His people over and over again. God blessed them by bringing them out of Egypt. God blessed them by giving them the Promised Land. God blessed His people by fighting for them and giving them victory over their enemies. God poured out blessing after blessing on Israel.
God even blessed King David. God promised the Rescuer would be one of his descendants. God also promised to bless his son, Solomon. When Solomon became king, God wanted to bless him, too, so He appeared to Solomon in a dream. In the dream, God said Solomon could ask Him for anything he wanted. Wow! Solomon asked God for wisdom that would help him be a good leader of God's people.
God was pleased with Solomon's answer and He blessed Solomon, not only with the wisdom he asked for, but many other things as well. You see, God loves to bless His children because He loves us.
When has God blessed you? What should our response be to God when He blesses us? Matthew 10:8 says that we are blessed so that we can bless others.
How are you sharing God's blessing with others?
NEW February Bible Verse: Hebrews 4:16
Preschool—God is Worthy of Worship, Pt. 2
(Solomon) I Chronicles 28
Now that God's people were no longer wandering in the wilderness, King David wanted to build a special place, called a temple, where the people could worship God. The temple would be a permanent building where God would meet His people, instead of the tabernacle tent. But God told David that his son, Solomon, would be the one to build the temple. What a big job! God told David exactly how the temple should be built, and David gave the plans to Solomon. David told Solomon not to be afraid of this big job, because God would be with him. The temple had to be built just right, and David believed God would help Solomon every step of the way. To get started, David called all the people together to help with the building. The people used stonecutters to make the pieces just right, and they used hammers to put the pieces together. When the temple was done, it was a beautiful place for the people to come to worship God together.
NEW February Bible Verse: Psalm 143:10a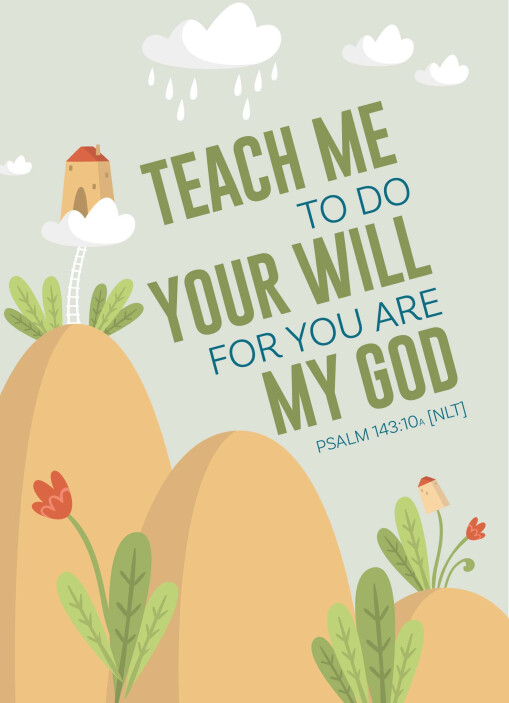 2 Year Olds– Jesus Cares
(Matthew 14; Mark 6; Luke 9; John 6:1-15) Feeding the 5,000
Foundational Truth: God Loves Me
Jesus shares His heart with the people in so many ways: He shares words of encouragement and love, He heals the sick, He feeds them physically, and Jesus takes a young boy's gift and does the impossible.
What does this story teach us? Jesus knows each of us and exactly what we need, and He cares! This is such an important spiritual truth for our children to learn. Jesus knows them individually and cares about every detail of their lives.
This story is near and dear to my heart, as God gave it to me to share with children in a special way. You can see Eliab's Lunch for yourself HERE.
I encourage you to look for ways to show your little one this week how Jesus cares for them.
Offering
Our offerings this past Sunday came to $18.43, bringing our total to $73.
The Fiedlers had to cancel their trip to Myanmar because of the sickness in that area. So, we are focusing our offerings on purchasing sewing machines to equip women at the Tabitha Centers in Kinshasaw, Congo. The cost for each sewing machine is $110. We're almost there!
God bless your week~
Becci Terrill
Children's Ministries Director
262-844-3201 (cell)
262-367-1212 (office)

Energizing the Next Generation to Love God,
Love Others and Make Disciples
1/28/20