Preschool & Elementary News: Week of January 8, 2017

Here's what we'll be talking about on January 14th—
Elementary – God is the One and Only
I Kings 16-18 (King Ahab & Elijah)
We're heading back to the Old Testament in God's Big Story, and this is one of those "wow!" stories when God shows His power in incredible ways.
Hundreds of years after King David, King Ahab ruled over Israel. The Bible says that King Ahab "did more evil in the eyes of the Lord than any of those before him" (I Kings 16:30). That's bad. Because of this evil, God showed His power by sending a drought over all of Israel. This would also prepare their hearts for what was coming next—a competition to prove that God is the One and Only God.
Sometimes God has to stretch us pretty far to get our attention. What has He done to get your attention and show you that He is the One and Only Source of strength, love, hope or life? He wants a relationship with us!
Preschool– God is Love
I Samuel 19-20; 31:1-2; II Samuel 9:1-7
(David and Jonathan's Friendship)
God shows us His love through others. It's the love of God that binds us together as a faith community.
God showed His love to David at a pivotal time in through a very unlikely person—Jonathan, King Saul's son, the person who would NOT be king because God has chosen David instead. In their relationship, we see one of the most beautiful pictures of the love of best friends in the Bible.
How have you experienced God's love through the people He has placed in your life? Help your kids to see and understand that these people are a special gift and message from God to tell them that He loves them so much!
2 Year Olds – Jesus Chooses Us to Follow Him
(Luke 5:1-11; Calling of the Disciples)
Foundational Truth: God Loves Me
Just as Jesus called twelve disciples to follow Him, He calls us to follow Him today. Even little ones know what it means to "follow." Whether they choose to do so is quite another story! Two year olds are developing confidence and the "I can do it" attitude.
Help them understand that Jesus wants us to follow Him. What does that mean? Let them know that being kind, sharing, loving others, etc.. are just a few of the ways that we follow Jesus in our actions.
Kids Quest Offerings—What's next?
Our offerings this past Sunday came to $15.41.
We are looking for ideas from the children about what they want to do next for God with their offerings. Please talk with them and let us know!
Register Today!: Basics Waypoint - January 21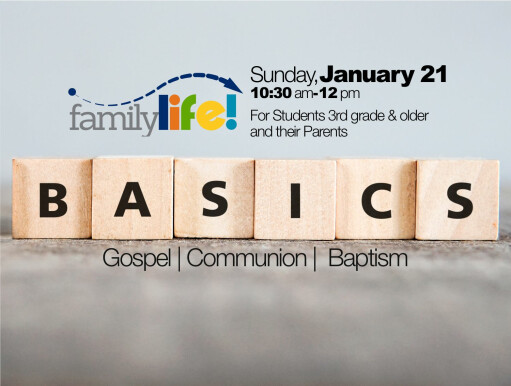 This Waypoint will give parents of 3rd to 6th graders the opportunity to clearly present the Gospel to their kids. We then will have the opportunity to talk together about Believer's Baptism and the taking of the Lord's Supper. We encourage families to participate in this Waypoint as part of the process of preparing for Baptism. Our next baptism services will be held Sunday, January 28. Register for Basics HERE!
May God do immeasurably more in your family this week!
Becci Terrill
Children's Ministries Director
262-844-3201 (cell)
262-367-1212 (office)

Energizing the Next Generation to Love God,
Love Others and Make Disciples
1/9/18