Preschool & Elementary Ministries Blog: Week of October 8, 2018

Special Offering Project for Feed My Starving Children!
From September thru December, our Kids Quest offerings are being used to feed hungry kids around the world through Feed My Starving Children. It only takes $80 to feed one child for an entire year!
We have created a special, take-home offering project to encourage our kids to:
1) Pray for kids who are hungry
2) Tell people what we are doing with Feed My Starving Children and Save money so they can
3) Give their offerings and Help feed hungry children.
This Sunday, every child in Preschool & Elementary will receive a container of Mini M&Ms* with a specially designed label telling them what they can do to help. We're excited to see how many kids we can help feed in 2019!
*ALLERGY NOTE: the M&M Minis contain milk and soy and have dyes typical for M&Ms. We are using the plain chocolate candies, however, the label says they "may contain peanuts."
Here's what we'll be talking about on Sunday, October 14th—
Elementary—God is Enough
Exodus 12-15 (The Golden Calf)
God raised up Moses to rescue His people from Egypt. God protected His people from the Egyptian army and parted the Red Sea for them to walk across. In the wilderness, God took care of His people and made a covenant with them—to be their God and make them His people. God wanted a relationship with His people.
Now they're camped at Mt. Sinai. Moses went to be with God on the mountain for 40 days. The people lost their confidence in God. They did exactly what God had commanded them not to do—they melted their gold jewelry and made a gold calf they could worship instead of God!
This story could have had a terrible ending, but God is merciful. God loves His people in spite of the terrible choices we make. We don't need to see God to know that He loves us and cares for us. He is enough and we can trust Him.
October Bible Verse: Jeremiah 9:24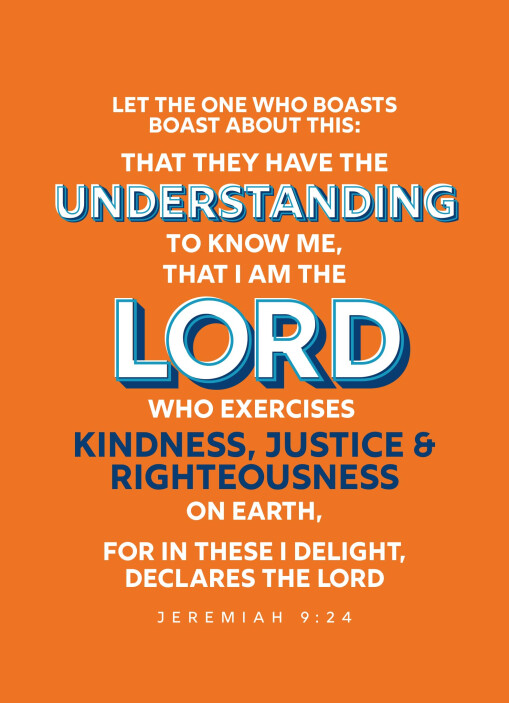 Preschool—God is Bigger Pt. 2
Exodus 3-4; 14-15 (Exodus)
Four hundred years after Joseph, there was a new Pharaoh in Egypt and the Israelites were living as slaves. The new Pharaoh was afraid there were too many Israelites, so he commanded that all baby boys be thrown in the Nile River. God is bigger than Pharaoh or his law, so He allowed a baby boy named Moses to be saved. Moses grew up in Pharaoh's own home! God spoke to Moses in a burning bush and told him to talk to Pharaoh. God was going to use Moses to set His people free from the Egyptians!
October Bible Verse: Luke 1:49
2 Year Olds–God is Mighty
Exodus 14-15 (Moses) Foundational Truth: God made Me
God's people had lived in Egypt a long time and they wanted to go to their home, in their own land. God is going to use Moses to show that He is mighty to the king of Egypt (Pharaoh) by doing many incredible things. God is also going to lead His people on a trip to their home. God is going to protect His people and show them He is mighty every step of the way.
Kids Quest Offering—Feed My Starving Children
Our offerings this past Sunday came to $6.26 bringing our total offerings to $201.04!
$80 feeds 1 child for an entire year. Only $38.96 more until we can feed 3 kids for an entire year. Yay!
Operation Christmas Child Shoeboxes are Still Available!
You can pick up one of the OCC shoeboxes at the back of the Worship Center. Please return filled shoeboxes to the OCC booth at Oakwood by Sunday, November 11th.
Wednesday Night, October 10th~
Preschoolers will be learning about Noah building the Ark.
It's MISSION Night for Elementary kids! We'll be learning about the Incredible Faith of Rahab (Princess of Protection) and we'll also hear from Susie Locklin—a missionary to Burkina Faso, Africa. Additionally, we'll be making Guest Bags for Touched Twice and enjoying snacks and games from Susie's village.
Waypoint for New Parents: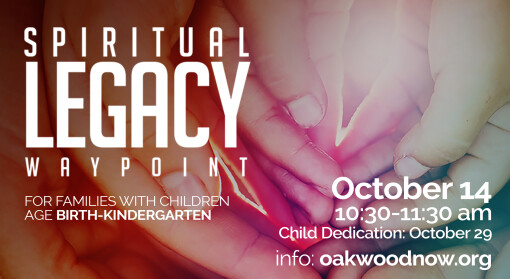 Register by noon, Wednesday, October 10, HERE!
Have a great week~
Becci Terrill
Children's Ministries Director
262-844-3201 (cell)
262-367-1212 (office)

Energizing the Next Generation to Love God,
Love Others and Make Disciples

10/9/18