Preschool and Elementary School Ministries Blog: Week of September 24, 2018

Safety is always a priority at Oakwood.
This coming Sunday, September 30th, we'll be holding a fire drill during both services to make sure that children and volunteers are prepared in the event of a fire. No alarms will be sounded. We'll simply be walking through what to do and where to go if there was a fire. We'll schedule a similar walk-through on a Wednesday night coming up.
Here's what we'll be talking about on Sunday, September 30—
Elementary—God Blesses
Genesis 25-33 (Jacob)
In the Bible, a blessing was often tied to a birthright. In ancient times, the birthright was a very sacred thing. It gave the oldest son the largest portion of the inheritance as well as the position of spiritual leader of the family. In Abraham's family, the birthright meant the promised Messiah would come through his family.
This week we'll meet Abraham's son, Isaac, and his twin sons, Jacob & Esau. Although Jacob and Esau were twins, they were very different, and they didn't always get along. The blessing was a big issue—for Jacob. Although Jacob wasn't the oldest, he wanted God's blessing. But, instead of waiting for God to work, Jacob took things into his own hands!
God works things out for His good purpose and plan in spite of what we do. God brought blessing to the life of Jacob, and God will bless us too. I'm so grateful!
September Bible Verse: Deuteronomy 7:9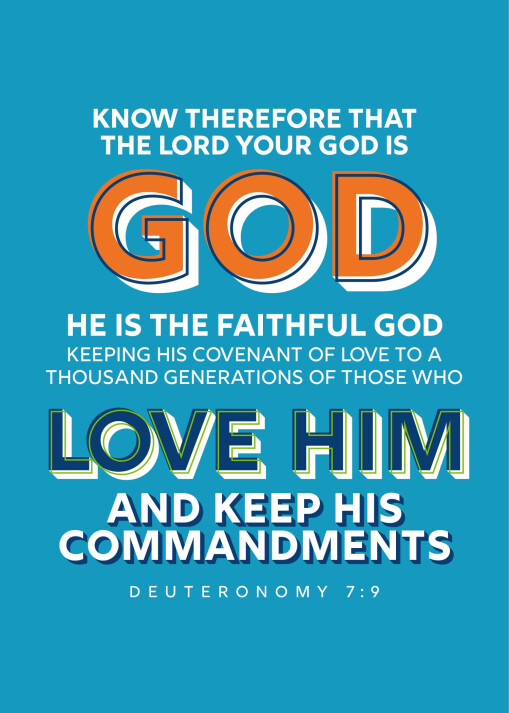 Preschool—God Loves Faith
Genesis 12-17 (Abraham)
God loves faith. What is faith? Confidently trusting God will do what He says and obeying Him no matter what.
God called Abraham to a life of faith. God told him to leave his home and go to a new land that God would show him. Abraham obeyed God and went. God made Abraham a special promise that He would bless him and make his family into a great nation. Through Abraham's family, God would bless the entire world! Abraham was very old and didn't have any children, but God promised that one day there would be so many people in his family it would be like trying to count the stars. Abraham had faith in God and believed God would do what He promised.
September Bible Verse: Psalm 33:1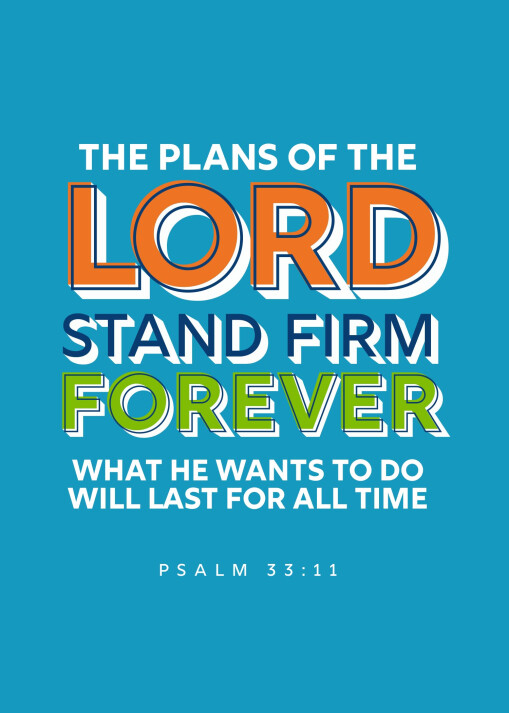 2 Year Olds–God Made People
Genesis 1-2 (Adam & Eve) Foundational Truth: God made Me
We're on our second week learning that God made people. God created a human couple, and walked, talked and had a perfect relationship with them. He entrusted them with the ministry of overseeing His creation.
Unfortunately, this perfect relationship was broken. Because of God's holiness, He extends His mercy to mankind. Through Christ, we can have a relationship with God!
What new things have you discovered about your 2 year old lately? What new things have they discovered about themselves and God's great big world? I love watching kids at this phase become more confident in their abilities. Enjoy every moment!
Kids Quest Offering—Feed My Starving Children
Our offerings this past Sunday came to $166.26 bringing our total offerings to $190.53!!
Yes, you read that correctly--$166.26. What a blessing to see one our students bringing in a piggy bank filled with bills and coins that God has given their family and they wanted to use it to help others. Praise Jesus for the way He is working in the hearts of our kids now and will work through their gifts to feed hungry children around the world!
Operation Christmas Child Shoeboxes are Available!
You can pick up one of the OCC shoeboxes at the back of the Worship Center. Please follow the directions on the insert or online to fill the shoebox and return filled shoeboxes to the OCC booth at Oakwood by Sunday, November 11th. Please add a check for $9 to help with shipping charges. We'll take shoeboxes to the area drop off site for pick-up and distribution. Let's see if we can help 200 children this year with our shoebox gifts!
Wednesday Night, September 26th~
Preschoolers will be learning that God made people.
Elementary kids will be looking at the Incredible Faith of Joseph as he shows us that having faith means staying positive in every situation.
UPCOMING WAYPOINT FOR NEW PARENTS: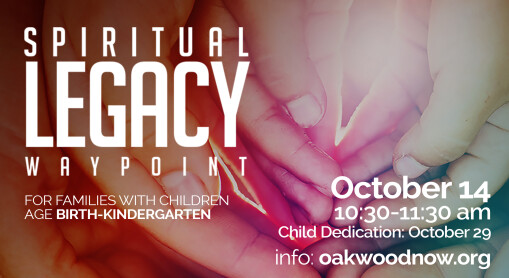 Click HERE for more information and to register.
Have a blessed week-
Becci Terrill
Children's Ministries Director
262-844-3201 (cell)
262-367-1212 (office)

Energizing the Next Generation to Love God,
Love Others and Make Disciples
9/25/18