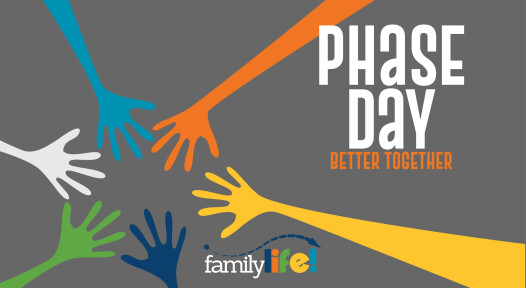 Your son or daughter is speeding through each phase of life faster and faster and if you are not intentional it will be easy for you to miss moments. Think about it like this...
• You only get 12 MONTHS to get to know your four-year-old as a four-year-old, and then they will be five.
• You only get 52 WEEKS to get to know your ten-year-old as a ten-year-old before they turn eleven.
• You only get 365 DAYS to get to know your fourteen year old before they turn fifteen.
• You only get 525,600 MINUTES to get to know your senior before they graduate high school.
The Family Life team is here for you each step of the way! Phase Day has been created to encourage, equip, empower and energize the entire family. Each Phase Day event will begin with a fun orientation for the whole family. Together, parents and their child will then experience phase-specific
Waypoints
. Phase Day is an intentional environment for parents and kids to engage, or re-engage, in the most important conversations of faith development.
So, please don't hurry through the current phase of your child's life. Pause and prioritize taking the next step by attending each Phase Day in order to maximize YOUR disciplemaking impact at home.
Stay tuned for the next Phase Day!