Middle School Ministry Blog: Week of October 22, 2018

Happy midterms everyone! We're almost to Christmas!
This Wednesday the middle school students will be talking about my least favorite topic: sin. Sin is a heavy and tough subject because we all our problems and God deals with sin in such a series way. We're going to break down what sin is and discuss how God sees us in spite of our sin. We'll end everything by talking about the greatest gift we've ever received: Jesus!
And on Sunday we're going to be solidifying the word "with" by looking at examples Jesus set of how to pray, study Scripture, live a life of worship, and know that we're extravagantly loved "with" His disciples! Lots of study through many passages this upcoming morning, be sure to talk to your student about how Jesus did life "with" others!
Friday is the Firelight Gaggle here at Oakwood. We're doing a bonfire from 7-9pm at the Oakwood firepit. There will be s'mores, stories, games, and a quick look at Fall Retreat for those who couldn't make it. There's no cost and lots of fun, so sign up now to get involved!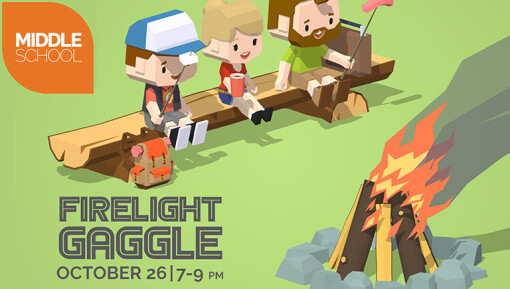 WHO 6th-8th Grade Students
WHEN October 26 | 7-9 pm
WHERE Oakwood Church Firepit
COST No cost
If you'd like, bring something to cook over the fire. S'mores provided.
REGISTER BY NOON, WEDNESDAY 24, HERE
Thanks and see you soon!
Myles "Tails" Hanson
Middle School Director