Middle School Ministry Blog: Week of October 1, 2018

Happy October! The year is already flying by, isn't it?!
This Wednesday the middle school students will be talking about... dating! Phew, it's going to be full of giggles and interesting questions, but we're going to work out what dating means and how to work through that as a middle school student and beyond. My end goal is to have students talk with their families about their expectations and such, but I'll be opening the door for students to ask questions whenever they'd like of the leaders and myself about dating if they desire. Dating is starting to be a real thing for students as young as 6th grade (or younger sometimes!), so let's tackle it head on together!
Sunday, the middle school students will be with the high school students! Please have your student meet in the high school room to get checked in and you can pick them up from there as well. I will be gone on Fall Retreat with some students and leaders over the weekend, so we will not be meeting in the middle school room. We'll be back next week!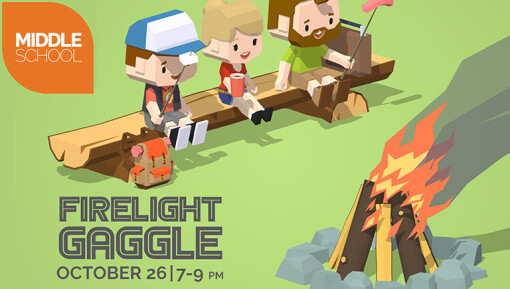 Save the date for the Firelight Gaggle - October 26! Click HERE for all the fun details!
Have a great week!
Myles Hanson
Middle School Director