Kids Quest News Week of May 1, 2017

Tell others about Jesus – Matthew 28:16-20, Acts 1:1-11
Before Jesus left earth to go back to heaven, He gave the disciples an assignment – tell others about Me!
That assignment wasn't just for Peter, James, John and the other disciples. It is for all of us – anyone who loves and follows Jesus.
Did you know that children are the largest unreached people group in the world? Did you also know that children are the people group most open to hearing the Good News about Jesus love? AND, the best time for a child to receive the love of Jesus is between the ages of 4-14.
Our mission in Kids Quest is to energize the next generation (our kids) to Love God, Love Others and Make Disciples. We realize that parents are the primary spiritual influencers in the lives of their children, and it is our desire to partner with you as you lead your children to love and follow Jesus.
I encourage you to take the opportunity again this week to reinforce the Good News with your kids, and equip them to share the Good News and make disciples wherever they go. Then, they will be fulfilling the Great Assignment that Jesus gave us so long ago.
Offering Project – What's next?
The kids are thinking and sharing their ideas for an offering project. So far they are thinking about 1) homes for people, 2) feeding the hungry – food pantry & Feed my starving children, 3) medical needs/hospital, 4) Royal Family Kids Camp, 5) helping families. You have such amazing kids with hearts to help others!!! We'll talk more next week and prayerfully make a decision.

Our total offerings for this week came to $24.16, bringing our new total to $142.39!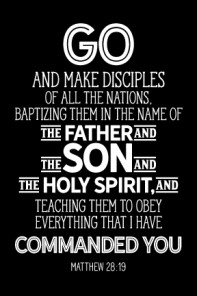 May Verse – Matthew 28:19
We have a new verse this month, and the last in our school year series. It aligns with our story this week and God's assignment for each of us to make disciples. Have fun memorizing our verse this month, and even more fun putting it into practice!
Do you have Stories?
Are your kids doing or saying things to share their faith? I'd love to hear! It's so encouraging hearing that children (4 year olds!) are telling their neighbors about Jesus, and inviting friends to church. Yay God!! He is doing a work in their hearts and using them to impact others for His kingdom. Thank you for all that you do each and every day to guide them on their faith journeys!
What's Ahead?
May 14 – Kids Sing - Children 3 years old thru 4th grade will sing in the 9 am service. Watch and learn the song we're singing.
May 24 – SHIFT - for families with children going into 1st, 5th, and 9th grades to help students/families transition to knew phases and programs.
May 28 – Family Sunday – Childcare provided for Infants thru 3 years old. No regular classes.
June 4 – Promotion Sunday – Children 2 years old and up will move up to their new classes. We encourage parents to keep children in classes that coincide with school programs (birthday before September 1st)
God's blessing on you this week!
Becci
Becci Terrill
Children's Ministries Director
262-844-3201 (cell)
262-367-1212 (office)
Energizing the Next Generation to Love God, Love Others and Make Disciples

5/2/17