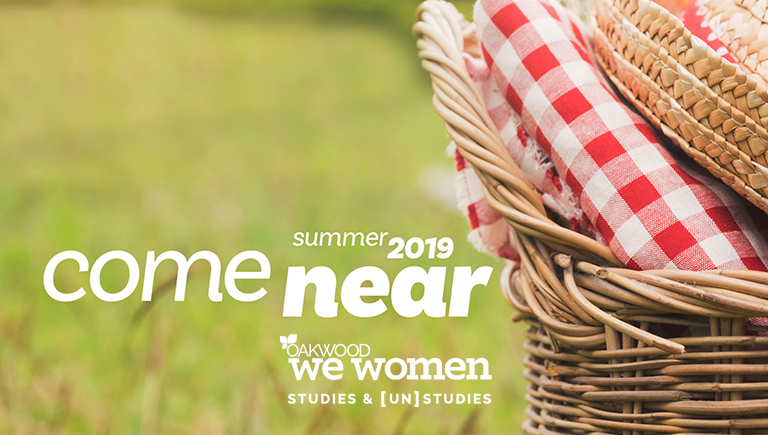 Come Near // Women's Summer 2019 Studies and [un]Studies
Seek the LORD while He may be found;
Call on him while He is near. Isaiah 55:6
Sometimes we feel distant from God... busy schedules, unexpected losses, hurts that cut deep. But God is not so far away. Through Jesus's sacrifice on the cross, we have close access to God once and for all. In fact, when we come near to Him, He promises satisfaction, peace and joy.
This summer, join with Oakwood women and come near to God. And He promises to come near to us.
6-week summer offerings include:
studies, looking closely at biblical truths together
[un]studies, which include a physical or creative activity that is designed to draw us into truths of Scripture, with time for group reflection at the end
Registrations will be taken on a first-come, first-served basis!
Questions?


COME NEAR Studies and [Un]studies Descriptions
Card-making / Lisa Boyer
Interested in getting in touch with your creative side this summer? Join us for a card making [un]study where we'll experiment with different card making techniques each week, followed by discussions centered around Isaiah 55. No experience necessary! Meets Wednesday evenings from 6:30-8 pm at Oakwood, starting June 12. Minimal material costs may be needed.
Faithfully Fit / Nicole Anacker & Kelley Kuphall
Engage your mind and your body! We will use a variety of workouts to get moving to music that inspires us to come near to God and experience His promises. Each workout will be followed by a short time of reflection and prayer. Open to ALL levels of fitness! Wear comfortable clothing/shoes. This [un]study meets Wednesday evenings from 6:30-7:45 pm at Oakwood, starting June 12.
Snapshots / Michelle Dahlby
Bring along your camera, whether it's your phone or a Canon! For this [un]study, we'll meet together each Thursday evening at 6:30 pm at local spots to explore and creatively express the dominant themes of Isaiah 55. Each evening will conclude with dialogue centered around the Scripture. Begins June 13.
Journaling / Lexi Ellis
In the midst of all our busyness, the art of being still and reflective has become a thing of the past. Join us in an online virtual small group as we reclaim it, working our way through weekly journaling, incorporating the written word or visual art centered on Isaiah 55. We'll meet online each week, beginning the week of June 10 to share, encourage, and receive different prompts and resources to try. Beginners and avid journalers are all welcome to this [un]study! Upon registration, you will be invited to join a private Facebook group.
Isaiah Bible Study / Carolyn Hulliberger
Let the words God gave the prophet Isaiah come alive as we discover God's faithfulness to satisfy our deepest needs and redeem a fallen world. We will look at a few key chapters in the book of Isaiah, drawing us closer to God's heart for His people. Practical life applications included each week! This study meets on Wednesdays 6:30-8 pm at Oakwood, beginning June 12. Suggested book donation of $9.
Isaiah 55 Come Near / Ann Gapinski
Let the words God gave us in Isaiah 55, along with additional Scripture, help us come near to our God in a deeper way and draw us closer to God's heart for those around us. We'll explore themes of satisfaction in God, God's sovereignty and witness to the nations, and God's promise of peace and joy. This study meets on Tuesdays 9:30 -11 am at Oakwood, beginning June 11.
None Like Him / Jubilee Corbett & Sarah Hayden
God is self-sufficient, omnipotent, infinite, and incomprehensible. We're not. And that's a good thing. In her book None Like Him, Jen Wilkin invites us to celebrate the freedom that comes when we rest in letting God be God. Join us on Wednesdays 6:30-8 pm at Oakwood, starting June 12. We will read through this book along with applicable Scripture passages and dive into God's amazing character. Suggested book donation of $10.

REGISTER FOR NONE LIKE HIM