Child dedication is the public opportunity for parents to dedicate their child to the Lord, promising before the congregation to bring up their child in the Christian faith. It is also the time for the church family to pledge their support of the parents in prayer and encouragement as they bring the child to church and raise him or her to know, love, and serve the Lord.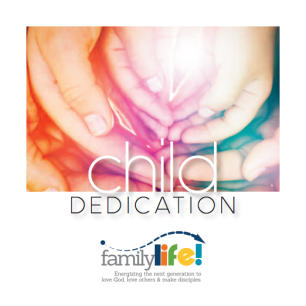 How is child dedication different from infant baptism?
Child dedication makes no claim of salvation for the child, nor does it symbolize entrance into the church body. Churches who baptize infants usually have one or the other belief.
If you are interested in dedicating your child at Oakwood Church we ask that you first attend our Waypoint Spiritual Legacy. For more information about this Waypoint or Child Dedication, please contact Nate Stenholtz, Staff Development Pastor. Additionally, please click on the image to download our Child Dedication Booklet to learn more about child dedication here at Oakwood.
To register your family for a child dedication ceremony, please complete the child dedication form.