8 Resources for Adoptive and Foster Families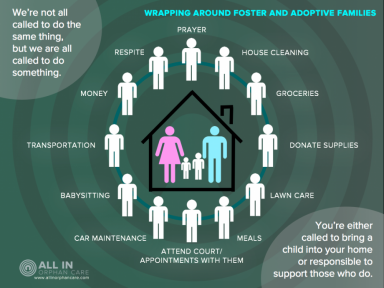 As Oakwood families are called to serve "the least of these" by adopting or fostering children, they desperately need support. All children who have been separated from their birth parents have experienced some kind of trauma and/or loss. Our families are oftentimes stretched like never before as they adjust to a new child in their home and attempt to give that child the physical, emotional and spiritual care they need to heal. With that in mind, here are 8 excellent resources for parents, families and friends who are impacted by foster care or adoption.
Hope 4 Homes - Hope 4 Homes is the Adoptive and Foster care support group of Mission: Hope and is open to all families in the Lake Country area.

We meet at 10:30 on the third Sunday of every month.

All In Orphan Care - ALL In Family Ministries is a church-based ministry resource engaging and equipping the local church to care for the marginalized, oppressed, neglected, abused and orphaned. We desire to help kids, strengthen families and provide resources that help facilitate a
The Connected Child -Most adoptive and foster families have unique and challenging parenting struggles. One of the best resources to provide hope and help is The Connected Child by Dr. Karyn Purvis and Dr. David Cross. These expert researchers and clinicians have developed parenting techniques that help to heal the hearts and minds of children who have experienced trauma. Download and read a chapter of this helpful resource.
Twenty Things Adopted Kids Wish Their Adoptive Parents Knew -Whether you adopted your child as an infant or an older child, the book Twenty Things Adopted Kids Wish Their Adoptive Parents Knew by Sherrie Elderidge, is very helpful in understanding how your child may think about his/her adoption and birth families. This wonderful book is written through the eyes of adopted children and gives voice to their needs, behaviors and feelings. Sherrie, herself, was adopted as an infant and offers great insight into the thoughts and hearts of adopted children. She offers hope and practical strategies for adoptive parents and children alike.
Attaching Through Love, Hugs and Play -

Building a strong attachment with your adoptive or foster child is one of the most important steps to helping your child heal. The book,

Attaching Through Love, Hugs and Play: Simple Strategies to Help Build Connections with Your Child

, by

Deborah D. Gray

offers straightforward advice on proven techniques to help your child attach.

Traits of Successful Adoptive Families - Focus on the Family - Adoptive families make a commitment for life to their adoptive children. This commitment is not made just by parents; it also includes siblings, grandparents, aunts, uncles and cousins. The journey of adoption is a walk by faith that will take each family through challenges and blessings. Focus On The Family has created a four part series for adoptive families and those associated with families who adopt. Be encouraged by the words of Debi Grebenik as you navigate the life journey of adoption.
Grace Based Parenting - Family Matters provides a map for learning to see ourselves and our children through God's limitless tenderness.
FASD: Fetal Alcohol Spectrum Disorder - FASD is an umbrella term describing the range of effects that can occur in an individual whose mother drank alcohol during pregnancy. These effects may include physical, mental, behavioral, and/or learning disabilities with possible lifelong implications.