5th & 6th Grade News: Week of April 9, 2018

Hello everyone! Hope you had an amazing spring break!
On Wednesday we will be looking at Compassion, the compassion Jesus had on those who followed and listened to His words, and how we can have compassion on those around us by carrying each other's burdens. This is a great lesson to follow up on and see how your entire family can help your neighbors in some way, whether it's spring cleaning, cooking a meal or dessert, or other ways to be a light. I'd love to hear stories of how you and your Q56er showed compassion to those near you!
And on Sunday we'll be starting our unit on how we share the Gospel with non-Christians in our Relational Sphere of Influence. You may not know what that term means, but your child will after Sunday morning, be sure to ask them about it! This Sunday is all about having a heart for the lost, we'll see you then!
MATRIX WAYPOINT: SIGN UP TODAY!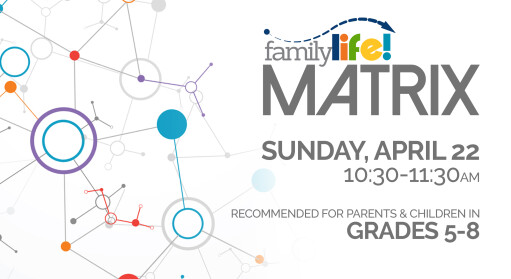 Discover how your gifts, talents, passions and experiences connect to make you uniquely qualified to serve those around you.
Cost: $5 / family. Please register HERE
Myles "Tails" Hanson
Quest 56 Director